Al Janoub Stadium, located in the vibrant city of Al Wakrah, represents a crowning jewel in Qatar's commitment to hosting the AFC Asian Cup 2023. This state-of-the-art arena not only exemplifies architectural brilliance but also reflects the rich cultural heritage of the region. Be with us till the end of this article!
Al Janoub Stadium Design and Architecture
Al Janoub Stadium, formerly known as Al Wakrah Stadium, is a marvel of modern architecture, blending cutting-edge design with cultural aesthetics.
The renowned Iraqi-British architect Zaha Hadid, celebrated for her innovative and iconic structures, envisioned this stadium as an embodiment of Qatar's commitment to excellence.
The design seamlessly integrates traditional Qatari elements with futuristic elements, creating a structure that is both visually stunning and deeply rooted in local identity.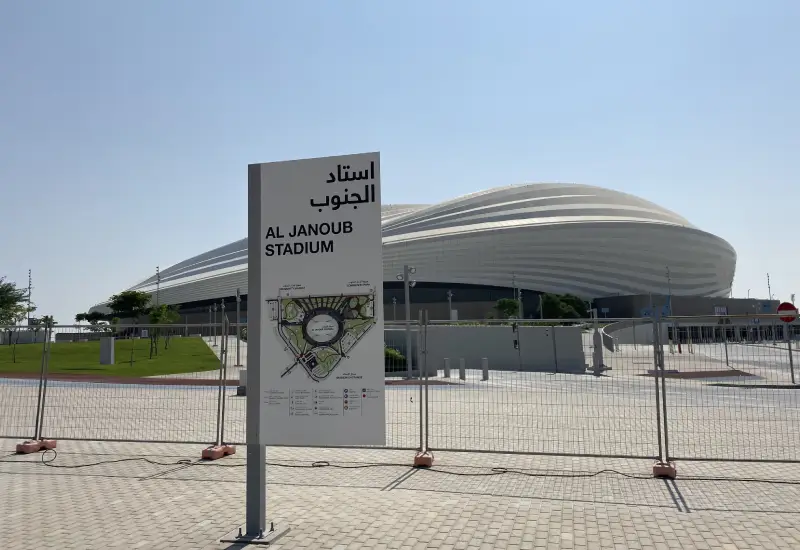 One of the most striking features of Al Janoub Stadium is its undulating roof, inspired by the sails of traditional Arabian dhows navigating the nearby Persian Gulf.
The curvilinear form not only provides shade for spectators but also allows for optimal air circulation, addressing the challenges of the desert climate.
The stadium's facade is adorned with intricate patterns reminiscent of traditional Islamic art, a nod to the rich cultural heritage of Qatar and the broader Middle East.
Cultural Significance: Connecting Past and Future
Beyond its architectural splendor, Al Janoub Stadium holds profound cultural significance. Qatar, a nation that values its heritage, has used the World Cup as an opportunity to showcase its traditions and customs to the world.
The design elements of the stadium serve as a bridge between the past and the future, symbolizing the harmonious coexistence of tradition and progress.
The incorporation of local design motifs, such as geometric patterns and calligraphy, pays homage to Qatar's cultural identity.
In a rapidly changing world, Al Janoub Stadium stands as a reminder of the importance of preserving and celebrating one's heritage.
The stadium's construction also provided employment opportunities for many locals, fostering a sense of pride and ownership in the community.
Environmental Sustainability: A Green Legacy
Qatar, cognizant of the environmental challenges posed by large-scale construction projects, has placed a strong emphasis on sustainability in the development of Al Janoub Stadium.
The undulating roof serves a dual purpose, not only as an architectural spectacle but also as a functional component in the stadium's environmental strategy.
Rainwater is collected and channeled through the roof's design, contributing to the irrigation of surrounding green spaces and reducing the stadium's environmental footprint.
The innovative cooling technology employed in the stadium exemplifies Qatar's commitment to creating eco-friendly infrastructure.
By harnessing solar energy to power the cooling systems, Al Janoub Stadium minimizes its reliance on traditional energy sources, setting a precedent for future sports venues to prioritize sustainability.
Transformative Impact on Qatari Sports Landscape
Al Janoub Stadium is not merely a static structure; it represents a dynamic force that has catalyzed positive change in Qatar's sports landscape.
The Asian Cup, with Al Janoub as one of its flagship venues, has spurred increased interest and investment in sports across the country.
The state-of-the-art facilities and international attention have provided a platform for nurturing local talent and fostering a culture of sportsmanship.
The stadium's role extends beyond football. It serves as a multi-functional space for community events, concerts, and cultural gatherings, enhancing its value as a hub for social engagement.
The legacy of Al Janoub Stadium is not confined to the duration of the World Cup but is woven into the fabric of Qatar's future, inspiring generations to come.
Al Janoub Stadium Capacity
Al Janoub Stadium, a striking architectural masterpiece located in Al Wakrah, Qatar, boasts a capacity of approximately 40,000 spectators.
This carefully calculated seating arrangement not only positions the stadium as an ideal venue for hosting matches during the 2022 FIFA World Cup but also prioritizes the comfort and experience of the fans.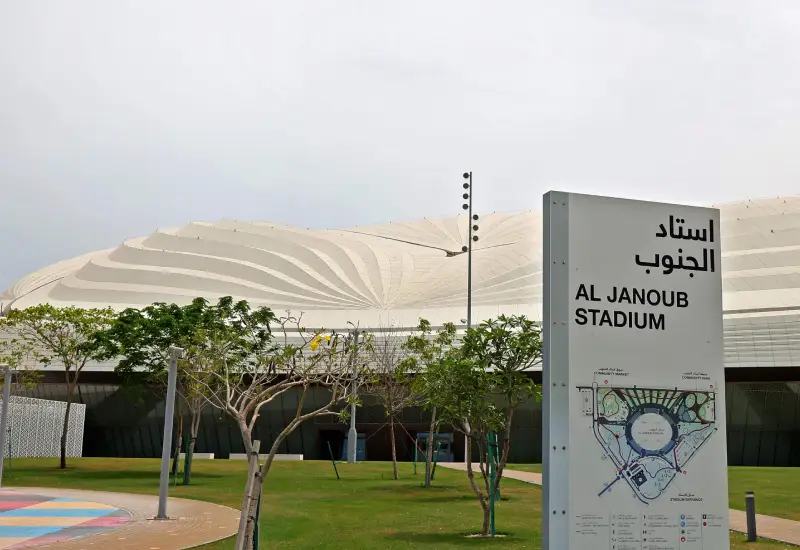 The stadium's design ensures unobstructed views of the pitch, spacious seating, and modern amenities for spectators, creating an immersive and enjoyable atmosphere for all attendees.
With its capacity finely tuned to balance the electrifying energy of a live football match and the need for a comfortable viewing experience, Al Janoub Stadium stands ready to host a myriad of memorable moments during the prestigious tournament.
Al Janoub Stadium matches in Asian Cup 2023
The following games will be held in this stadium:
Malaysia vs Jordan 15 January 2024
Palestine vs United Arab Emirates 18 January 2024
Australia vs Uzbekistan 23 January 2024
Round of 16: Runner-up Group B vs Runner-up Group F 30 January 2024
Quarter-finals: Winner Group B/3rd Group A/C/D vs Winner Group F/Runner-up Group E 2 February 2024
Location & Address
This Stadium is located in Al Wakrah, a city in the state of Qatar. Positioned about 23 kilometers south of the capital city, Doha, Al Janoub Stadium is a prominent venue in the region.
Address: 5H5F+WP7, Al Wukair, Qatar (The stadium on Google map)
Conclusion
Al Janoub Stadium stands tall as a symbol of Qatar's unwavering commitment to excellence, innovation, and cultural preservation. From its breathtaking design that seamlessly blends tradition and modernity to its sustainable features and transformative impact on the sports landscape, Al Janoub is a testament to the power of visionary planning and execution.
As the world eagerly anticipates the Asian Cup 2023, Al Janoub Stadium stands ready to not only host thrilling football matches but also to leave an indelible mark on the global stage, showcasing Qatar's prowess in both sporting and architectural arenas.
Are you planning to travel to Qatar and looking for a Qatar travel agency? check out our Qatar tours and feel free to contact us.