Qatar is mainly known for its modern infrastructure; however, this small country is full of hidden and undiscovered gems. In other terms, Qatar is a country where the natural beauty of the Middle East can be seen despite its modernized infrastructure. Al Thakhira Beach is one of those hidden gems of Qatar where the colors combine with calming sensations. If you are one of those people who enjoy bird watching, kayaking, and fishing, Al Thakhira Beach Al Khor is the perfect spot for you. Let's take a look at this amazing site in Qatar.
Al Thakhira Beach Qatar
Nestled in the heart of Qatar, Al Thakhira Beach Al Khor is an undiscovered gem for both adventurers and tourists.
It doesn't matter whether it is your first time or not, Al Thakhira Beach is a spot where you can never get tired of visiting it.
The Al Thakhira Beach is the perfect getaway from the hustle and bustle of the city. Al Thakhira Beach is quite different from the other parts of Qatar, where giant skyscrapers and tall buildings represent the outline of the country.
Rent a kayak and explore the magical wonders of this beautiful area because kayaking at Al Thakhira will soothe your soul and clear your mind.
History of Al Takhira
Al Thakhira Beach is a unique landscape situated in the Al Khor municipality. The word Al Thakhira translates to ammunition in English.
There are several theories about the origin of the name. Some believe the Al Thakhira was named after a group of sailors who had docked at Al Thakhira and lost their bearings.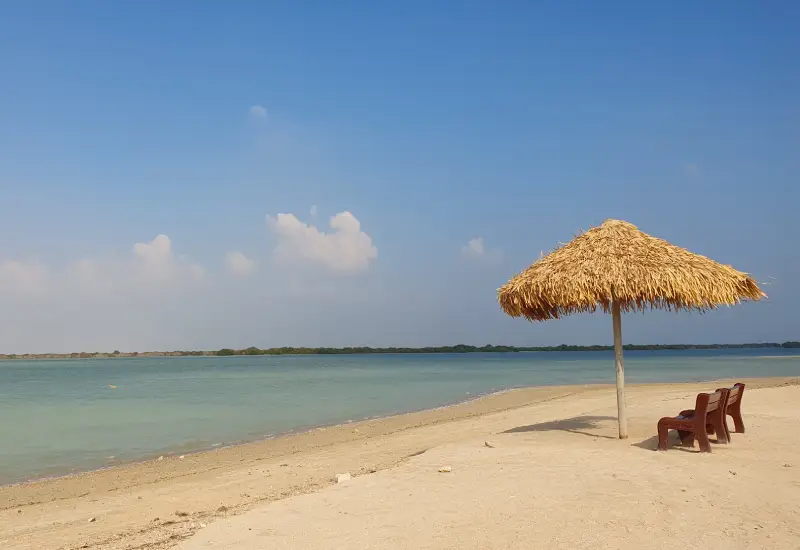 They eventually try to look out for food with their weapons and ammunition. Another theory alleges that the old residents of Al Thakhira used to keep large reserves of food, money, and weaponry.
Read more: Desert Falls Water & Adventure Park Doha
Al Thakhira Location
Al Thakhira Beach is a wonderful destination located on the northern coast of Qatar. The beach is approximately 35 kilometers away from the north of the capital city, Doha.
The Al Thakhira Beach location is situated in the Al Khor municipality and is easily accessible by car or public transportation, making it a popular destination for adventurers.
The beach is located near the Al Thakhira mangroves, providing a unique ecosystem enjoyable for both tourists and locals. Visitors to the beach can take a leisurely stroll along the boardwalk, watch birds, and enjoy the stunning views of the landscape.
Why is Al Thakhira Beach Famous?
Al Thakhira Beach, Qatar, is one of the most unique landscapes in the region. With its stunning natural beauty and the large mangrove reserves nearby, this oceanfront area is the perfect spot for relaxing and exploring the wonders of Qatar.
Mangroves are the most common beauties among the watery channels of Al Thakhira Beach Al Khor. Al Thakhira Beach is well-known for its unique landscape, large mangrove reserves, and beautiful environment.
Kayaking at Al Takhira and exploring the watery channels between clusters of mangrove trees is surely a unique experience.
Al Thakhira Beach Al Khor Activities
There are varieties of activities one can do at Al Thakhira Beach, Qatar. Since the area is very calming and relaxing, visitors can have a diverse range of enjoyable activities.
Swimming, crabbing, and kayaking at Al Thakhira are among the activities you can enjoy. The area of Al Thakhira Beach is also a habitat for a wide range of bird species.
Visitors can enjoy bird watching at Al Thakhira Beach and spot some of the many birds that call Al Thakhira their home. Moreover, the boardwalk among the mangrove trees is also a great place for hiking and seeing the beautiful surrounding landscape while enjoying a peaceful walk.
In addition to crabbing, Al Thakhira Beach is also ideal for fishing. You can take your equipment with you or rent one from the local vendors.
Fishing is one of the most fun activities at Al Thakhira Beach. Additionally, camping and picnicking are other leisure activities you can do with your friends and families.
You can also have a romantic picnic at Al Thakhira Beach. There are designated camping and picnic areas that you should consider. Pitch a tent and enjoy a night under the stars while listening to the sound of the waves!
Al Thakhira Beach Reviews
Al Thakhira Beach is one of the most recommended sights in Qatar, attracting many tourists and adventurers to the area.
The calm and quiet beach, beautiful mangroves, clean water, and superb atmosphere are some of the highlights that have made people fall in love with this area.
Al Thakhira Beach is a few miles from Al Khor City but is more charming and vibrant. Visiting this place is recommended if you want to see more beauties of Qatar's natural environment.
Useful Tips
Al Thakhira Beach is an amazing location with a lot of beauty. If you're planning to visit Al Thakhira Beach, there are some tips that you can use to have a more fulfilling experience.
The first thing that you should do is to take a hat with you and wear sunscreen. Sometimes, the sun can be very intense in Qatar. So make sure to protect yourself from the sun.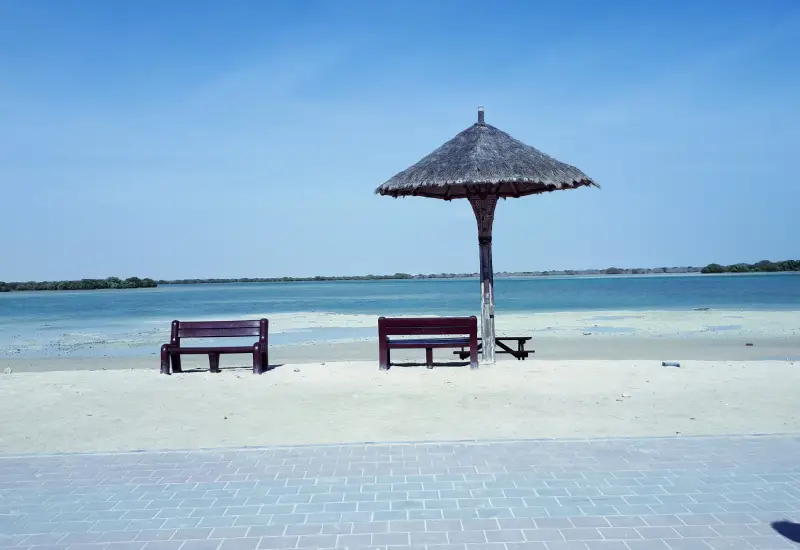 Secondly, the Al Thakhira mangroves are home to a variety of insects, so bring insect repellant to avoid bites. Thirdly, bring appropriate clothes with you.
Comfortable shoes and comfortable clothing can be more effective in the environment of Al Thakhira Beach.
The last thing and most important one, make sure to respect the environment because Al Thakhira Beach is a beautiful and fragile ecosystem. So, follow the general rules and posted ones or regulations, and do not damage the natural features.
Finally
Qatar is home to a beautiful array of natural landscapes, from vast deserts to lush mangroves and lovely beaches. With its warm climate, rich cultural heritage, and fascinating wildlife, Qatar welcomes any visitor from all around the world.
A significant site in Qatar is Al Thakhira Beach, which is located in the northern part of the region. Al Thakhira Beach Al Khor is a spot where you can relax and enjoy the lovely environment of the area. Whether you are a seasoned adventurer or a first-time visitor, Al Thakhira Beach Qatar will amaze you.
Are you planning to travel to Qatar? Please read things to do in Qatar article & Check out our Qatar tours.