Situated in the heart of Qatar's capital city, Radisson Blu Hotel Doha stands as an exquisite oasis of luxury, comfort, and unparalleled hospitality. Renowned for its elegant ambiance, world-class amenities, and impeccable service, this five-star hotel offers a remarkable experience for both business and leisure travelers. With its prime location, opulent accommodations, exceptional dining options, and an array of facilities, Radisson Blu Hotel Doha promises an unforgettable stay in the vibrant city of Doha.
For guests who prefer the convenience of online booking, the Radisson Blu Hotel Doha offers several packages and discounts on its website.
The most common discounts include last-minute bookings and family packages. When booking online, ensure that any online fees, taxes, and other additional costs are included in the package to get the most out of your stay.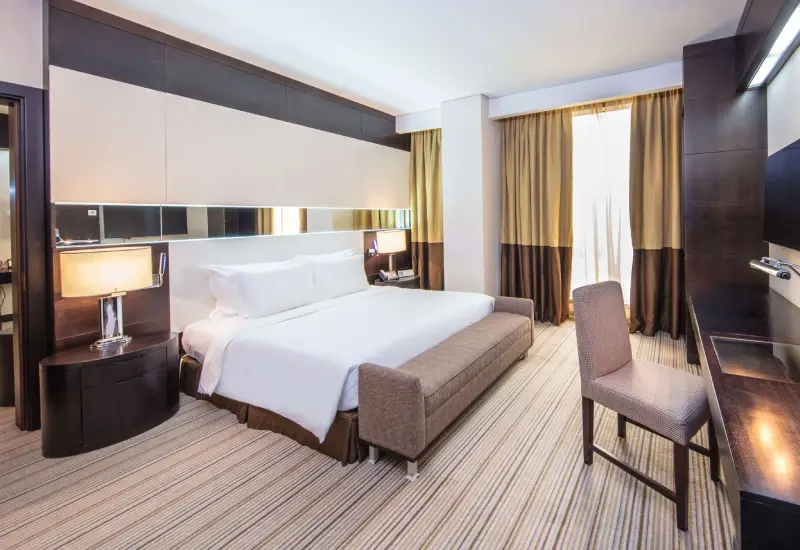 For groups, several rooms and suites are available for larger parties. All rooms are equipped with quality amenities, including complimentary Wi-Fi, a flat-screen TV, and a mini-bar.
Additionally, guests can enjoy a turndown service, daily housekeeping, and 24-hour room service. As for safety, the hotel is monitored by CCTV throughout and offers a complete list of services.
Radisson Blu Hotel Doha Facilities and Services
Radisson Blu Hotel Doha goes above and beyond to provide guests with exceptional world-class facilities and services that cater to their every need.
The hotel features a fully equipped fitness center with modern gym equipment, allowing guests to maintain their fitness routine during their stay.
Additionally, the hotel offers a luxurious spa where guests can indulge in rejuvenating treatments, massages, and relaxation therapies.
The hotel provides versatile meeting and event spaces fully equipped with modern technology and professional event-planning services for business travelers.
Radisson Blu Hotel Doha Restaurant
The Radisson Blu Hotel Doha's Restaurant is a popular establishment offering a variety of international cuisine, from Italian to Middle Eastern to Asian fare.
The restaurant offers a la carte menu items alongside extensive buffet options. Because of its five-star status, the restaurant also provides top-of-the-line, attentive service.
Guests are treated to various starters, soups, salads, main courses, and desserts. The chef has crafted creative and tantalizing twists on traditional Middle Eastern dishes, making them signature items at the restaurant.
If you're feeling adventurous, there are also dishes from the Mediterranean, Asia, and North & South America. Vegetarian and vegan options are also available, from salads to curries to kebabs. Chingari Restaurant, Bombay Balti, Ruby Wu Doha and etc.
Radisson Blu Hotel Doha Bar
Radisson Blu Hotel Doha has an incredible bar located inside the hotel. It's the perfect place to relax in style after a long day of exploring the sites in Doha.
The bar is decorated in an elegant modern style with luxurious high-end furniture and accessories. The warm atmosphere and inviting ambiance are highlighted, with dim lighting and soothing music playing in the background.
The bar offers an array of delicious cocktails, spirits, and beers to enjoy while you recline on one of the comfortable sofas and have conversations with friends. There are also light snacks and appetizers available to snack on while you sip your drinks.
Enjoy a selection of wines, hand-crafted cocktails, and selected international spirits as you socialize and chat with new people. Guests can also watch international sports events on the large TVs in the bar or request a signature live DJ performance.
Radisson Blu Hotel Doha Night Club
The Radisson Blu Hotel Doha is home to one of the most luxurious and stylish nighttime experiences in the city.
The vibrant nightclub inside the hotel is a popular destination among Doha's nightlife enthusiasts, attracting locals and visitors on the weekends.
The lounge is conveniently located on the hotel's ground floor, making it an easy stop for guests heading to other nightlife spots.
The nightclub features an elegant atmosphere perfect for a night of champagne sipping, dancing, and conversation with friends.
There is also a variety of international DJs spinning the latest in top-40, hip-hop, and house music to keep guests on their feet.
The spacious nightclub is illuminated by colorful laser lighting, creating an energetic vibe. There's also a spacious dance floor, premium audio/visual equipment, and plasma TVs – perfect for enjoying live sports and music videos.
Radisson Blu Hotel Doha Location
The hotel is conveniently placed in the heart of the city, offering panoramic views of the Arabian Sea and the iconic skyline of West Bay.
Its strategic location makes it ideal for both business and leisure travelers, as it provides easy access to the city's main business and leisure destinations, including the Doha International Airport, downtown Doha, the Corniche Doha Waterfront, Souq Waqif, and the Doha Exhibition & Convention Center.
If you're looking for an unforgettable stay in Qatar's bustling capital, then you can't go wrong with a stay at the Radisson Blu Hotel Doha.
TripAdvisor reviewers highly recommend staying at this hotel thanks to its chic, modern rooms, excellent service, and close proximity to local attractions.
Most guests praised the hotel's room features and efficient service. The standard rooms are described as modern and sleek, with comfortable beds and stunning views of the city skyline.
The amenities provided are also highly praised, with various restaurants, bars, a spa, and a gym described as top-notch. Many guests have also praised the staff, saying everyone from the front desk to housekeeping is friendly and helpful.
Overall, the Radisson Blu Hotel Doha earns rave reviews from TripAdvisor guests, with many people recommending it for its modern and sleek rooms, top-notch amenities, excellent service, and ideal location.
More Information on Visiting Radisson Blu Hotel Doha Qatar
Radisson Blu Hotel Doha Contact Number: +974 4428 1428
Radisson Blu Hotel Doha Address: Salwa Road, Intersection of C, Doha, Qatar
Radisson Blu Hotel Doha Email Address: [email protected]
Radisson Blu Hotel Doha Website: Here
Final Word
Radisson Blu Hotel Doha represents luxury, comfort, and exceptional hospitality in the heart of the vibrant city. With its prime location, luxurious accommodations, exquisite dining options, world-class facilities, and unparalleled services, the hotel offers a truly memorable stay for both business and leisure travelers. Whether you're visiting for business meetings, exploring the city's cultural attractions, or simply seeking a relaxing getaway, Radisson Blu Hotel Doha is the perfect destination to experience the height of luxury and hospitality in Qatar's captivating capital city.
Are you planning to travel to Qatar? Check out our Qatar Hotel page & Qatar tours.