Doha is a city of wonders, filled with amazing sites, must-visit museums, nice hotels, and great restaurants. Eating a nice meal at a restaurant in Doha is one of the hardest choices since many 5-star restaurants are operating in the city. From local dishes to Asian, international, Italian, Indian, and European, dining option is not limited to any taste. Ruby Wu's Radisson Blu is a Chinese restaurant that has many fans and followers and is located at one of the amazing hotels, the Radisson Blu Hotel Doha. In this article, we will introduce Ruby Wu's Doha to travelers.
Ruby Wu's Radisson Blu
If somebody asks me if I have ever had trouble finding a good dining place whenever I travel to new locations, I would surely say yes; and I think that goes for all of us when we travel to new locations, such as new cities or even new countries, and Doha, being the tourist and travel hub in the recent years is full of wonderful restaurants and dining places.
Ruby Wu's Radisson Blu is one of the few places that offers Chinese cuisine inside Doha; a great restaurant with a variety of dishes from the Land of Dragons that is ideally situated in one of the most famous hotels in Doha.
Ruby Wu's Radisson Blu is the king of restaurants when it comes to Chinese food. Nice staff, delicious dishes, and a team of experienced chefs are only some of the positive things about this place, and eating a portion of Chinese food is a must-try activity that I recommend to everyone if you have never eaten a Chinese dish.
Radisson Blu Hotel Restaurant Design
Radisson Blu Hotel Restaurant, or Ruby Wu's, is a design masterpiece as it showcases the culture of China in a subtle and relaxing environment.
The use of red, black, and white colors in the walls and other design elements is the first thing that will remind you of China. The walls, the doors, and the ceiling are decorated with Chinese elements.
You can see the Chinese design and style nearly in every part of the restaurant. Even the tables and seating chairs are designed in black and red color to demonstrate the Chinese characteristics of the complex.
Overall, the environment of Ruby Wu's Doha is relaxing and comfortable and is ideal for those who are interested in Chinese culture.
Ruby Wu's Doha Highlights
Ruby Wu's Doha provides a nice culinary journey for its visitors, and the team of Ruby' Wu's in Doha makes sure that everything is at its perfection.
Ruby Wu's Doha is a new experience for many guests and visitors that haven't been to a Chinese restaurant before.
Enjoying Chinese food: Chinese food is a great experience for those who haven't tried it out yet. You can enjoy the Chinese dishes provided at Ruby Wu's Doha and experience a delicious dish with your friends and family.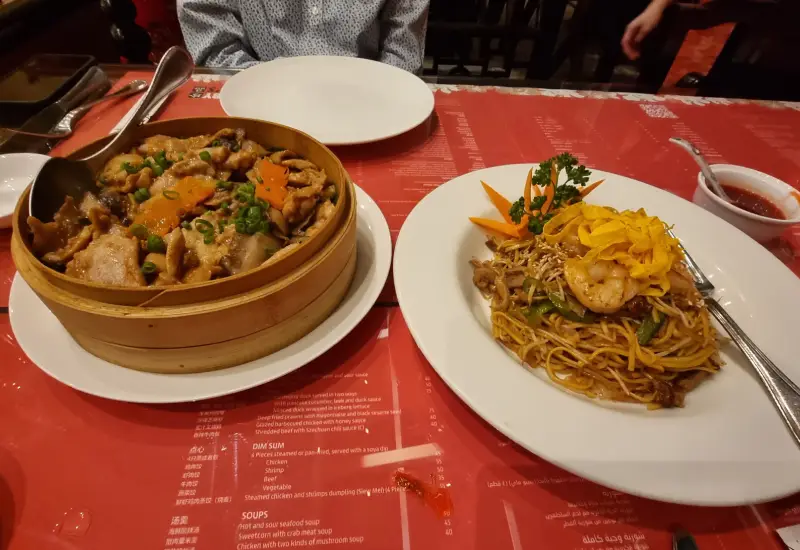 Nice Service: Ruby Wu's staff are very experienced, and you can appreciate the great services of Ruby Wu's team.
Get to know Chinese culture: eating a Chinese dish will trigger your curiosity to learn more about Chinese culture and have discoveries about Chinese culture.
Vegetarian Friendly: Ruby Wu's is also vegetarian-friendly, which makes the restaurant a great choice for vegans and vegetarians.
Ruby Wu's Doha Menu
Ruby Wu's Radisson Blu Hotel restaurant invites guests to a delicious culinary journey. The menu of Ruby Wu's consists of all types of foods, from tasty appetizers to must-try desserts and drinks.
Another positive point about the Menu of Ruby Wu's is that it is reasonably priced, it's not very expensive, and is great value for the money since almost 90 percent of the items on the menu are delicious and made out of high-quality ingredients.
Appetizers: a great way to start your journey, items of appetizers consist of pieces of seafood, duck, meat, etc.
Dim Slim: Dim Slim menu is ideal for those who want to go beyond typical dishes.
Soups: The menu of Ruby Wu's also includes different kinds of soups, such as meat soup, vegetable soup, and other items.
Seafood: The menu also includes diverse seafood with specialties including stir-fried shrimp and Chinese cabbage in chili sauce, steamed grouper with garlic sauce, and deep-fried prawns in golden garlic bread crumbs.
Vegetables: The menu of Ruby Wu's also includes vegetables as healthy items for vegetarians.
Meat: You can find all types of meats as specialties on the menu, from chicken to duck and lamb.
Noodles and Rice: Noodles and rice are part of Asian culture and are a must-have on the menu of Ruby Wu's. Make sure to taste different items on the menu of Noodles and Rice.
Desserts: Ruby Wu's also offers different kinds of desserts for a nice break after the meal.
Ruby Wu's Doha Reviews
Ruby Wu's Doha is a popular dining place and has many fans. Some of the most praised characteristics of Ruby Wu's Radisson Blu is its polite and friendly staff, who deliver services very well to guests.
The use of fresh ingredients and delicious eatables are other positive key features of the restaurant, which makes it a popular dining place among both locals and tourists.
Most of the internet reviews about Ruby Wu's in Doha are good, and several food critics have praised the restaurant. Ruby Wu's Doha reviews suggest that this place is not an ordinary Chinese restaurant and can be a top-notch experience for many visitors.
Radisson Blu Hotel Restaurant Location
Ruby Wu's is situated in the center of Doha and is ideal for travelers and visitors. Ruby Wu's restaurant is close to many attractions, and visitors can easily explore the area after or before their dining experience.
For example, the Al Mirqab Mall, one of the great malls of Doha, is only 10 minutes away from the restaurant where guests can enjoy shopping, or Doha Quest, an entertainment facility, is also close, which visitors can visit and experience thrilling and exciting moments.
The Radisson Blu Hotel restaurant is easily accessible, and visitors can also explore the area for more activities.
Ruby Wu's Radisson Blu restaurant is situated in the heart of Doha and is accessible via cars, taxis, and Doha metro.
The restaurant is 2.6 miles from The Corniche. Radisson Blu Hotel Restaurant offers dine-in and takeaway services and can also be arranged for family gatherings or little ceremonies.
Ruby Wu's brings delights to China and is a nice place to have a delicious dining experience.
Ruby Wu's Restaurant's Address: Radisson Blu Hotel Salwa Road Intersection of the C Ring Road, Doha, Qatar.
Ruby Wu's Restaurant's Email Address: [email protected]
Ruby Wu's Restaurant's Contact Number: +97444281428
Opening Hours: Opens every day (Sunday to Saturday) from 6 to 11 pm.
Lastly
Ruby Wu's in Doha is a great place to have a top-level dining experience. Ruby Wu's Radisson Blu Hotel Restaurant offers delicious dishes, and guests can enjoy new experiences and open their hearts to new tastes. If you are going to visit Doha, Qatar, you can make a reservation at the Radisson Blu Hotel and select Ruby Wu's Chinese restaurant as your dining option to make memorable moments with your friend and family.
Are you planning to travel to Qatar? Check out our Qatar tours.