Al Liwan Suites is a prominent hotel in the vibrant city of Doha. The suites offer an exclusive lifestyle experience combining Arabian hospitality with modern design. The suites come with fully-furnished and equipped amenities to ensure a comfortable, home-like stay.
Amenities include four bedrooms and four bathrooms, a lounge with a six-seater dining table, a fully appointed kitchen, balconies, and terraces for outdoor entertaining. From the moment you step into this prestigious hotel, you are enveloped in an ambiance of elegance and sophistication.
Whether you are a discerning business traveler or a vacationer seeking a memorable getaway, Al Liwan Suites offers an unparalleled experience that combines impeccable service, luxurious accommodations, and a prime location.
Al Liwan Suites Accommodations
The hotel features a range of spacious suites that are elegantly designed with modern amenities and furnishings.
Each suite is meticulously appointed to provide guests with a serene and relaxing environment during their stay.
The rooms are equipped with comfortable beds, a separate living area, a fully equipped kitchenette, and a private bathroom.
Some suites also offer stunning views of the city skyline or the Arabian Gulf, adding to the overall charm of the hotel.
Facilities and Services
One of the highlights of Al Liwan Suites is its exceptional service. The hotel staff is highly professional, friendly, and dedicated to ensuring every guest has a memorable stay.
They are always ready to assist with any requests, whether arranging transportation, providing local recommendations, or catering to specific needs.
Al Liwan Suites also provides a range of amenities to enhance the guest experience. These include a well-equipped fitness center, a swimming pool, and a sauna. Guests can take advantage of these facilities to unwind after a busy day of work or sightseeing.
Al Liwan Suites Restaurant
The restaurant at Al Liwan Suites is a culinary gem that delights guests with its exquisite cuisine, inviting ambiance, and attentive service.
With a focus on creating memorable dining experiences, the restaurant offers a delightful journey for the taste buds, showcasing a fusion of international flavors and local influences.
Upon entering the restaurant, guests are greeted by an inviting and sophisticated atmosphere. The elegant decor, stylish furnishings, and warm lighting create a welcoming ambiance that sets the stage for an exceptional dining experience.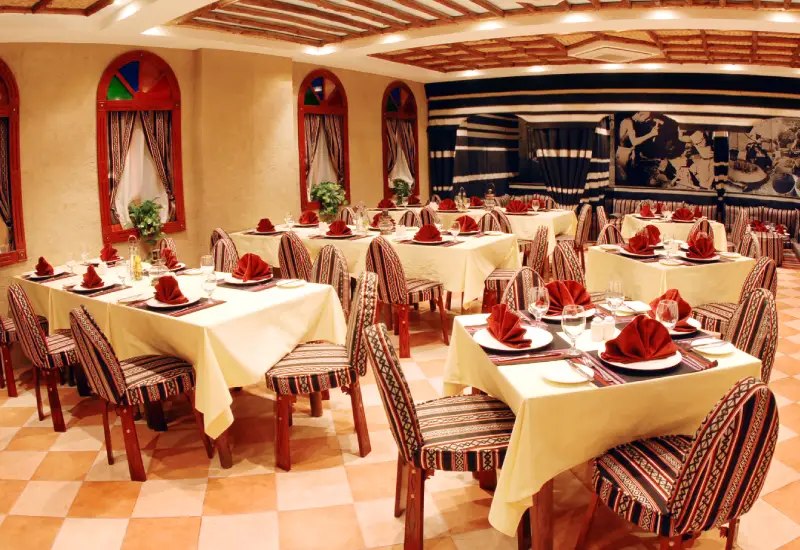 The talented team of chefs takes pride in crafting a menu that showcases a diverse range of culinary delights. With a focus on using fresh, locally sourced ingredients, the restaurant offers a gastronomic journey that captures the essence of international and local cuisine.
From flavorful Middle Eastern delicacies to international classics with a contemporary twist, there is something to satisfy every palate.
Booking a stay at Al Liwan Suites is a seamless and convenient process, allowing you to secure your accommodations with ease and peace of mind.
Whether you prefer to make your reservation online or through other channels, Al Liwan Suites offers multiple options to suit your preferences.
To begin your booking journey, you can visit the official website of Al Liwan Suites. The website provides a user-friendly interface to browse suite options, explore the hotel's amenities, and learn more about the services offered.
You can easily check the availability of suites for your desired dates and select the one that suits your needs.
In addition to the online booking system, Al Liwan Suites may offer alternative booking methods such as phone reservations or through third-party travel agencies.
If you prefer a more personalized approach or have specific inquiries, you can directly contact the hotel's reservation team via phone or email.
The dedicated staff members are readily available to assist you with any questions or special requests you may have.
Al Liwan Suites Reviews
The hotel has been well-reviewed by guests for its excellent customer service, comfortable accommodations, and its location in the heart of the business district.
Guests also appreciate the convenient access to shopping and dining in the area.
Most guests who have stayed at the Al Liwan Suites have been very satisfied with their experience. They praise the warm welcome they receive upon arrival, the friendly staff, and the comfortable beds.
The reviews also mention that the restaurant offers an excellent selection of international cuisine, and some guests report that the breakfast buffet was one of the best they ever had.
Overall, the Al Liwan Suites has received an overwhelmingly positive response from guests. The excellent customer service, comfortable accommodations, and great location make it an ideal choice for those looking for a place to stay in Doha.
Al Liwan Suites Location
Al Liwan Suites enjoys a prime location in the heart of Doha, making it an ideal choice for travelers seeking convenience and easy access to the city's attractions, business centers, and cultural landmarks.
Al Liwan Suites is strategically positioned within close proximity to major transportation hubs, including Hamad International Airport, which is approximately a 20-minute drive away. This allows guests to reach the hotel upon their arrival in Doha quickly and conveniently.
Within the immediate vicinity of Al Liwan Suites, guests will find a wealth of shopping destinations, ranging from modern malls to traditional markets.
Just a short distance away is Villaggio Mall, one of Qatar's premier shopping destinations, featuring a wide array of luxury brands, international retailers, and entertainment options.
Additionally, the hotel is close to the renowned Souq Waqif, a traditional market where visitors can immerse themselves in the rich culture, browse through stalls selling handicrafts, spices, and textiles, and enjoy authentic Qatari cuisine.
More Information to Visit Al Liwan Suites Doha
Al Liwan Suites Contact Number: +974 44242888
Al Liwan Suites Address: 27 Umm Ghowailina, P.O.box 32457, Doha, Qatar
Al Liwan Suites Email Address: [email protected]
Al Liwan Suites Website: Click Here
Final Word
In conclusion, Al Liwan Suites is a sanctuary of sophistication and tranquility in the heart of Doha. With its luxurious suites, attentive service, and prime location, the hotel offers an unforgettable experience for both business and leisure travelers.
Whether you're visiting Qatar for business meetings, exploring the city's cultural attractions, or simply seeking a rejuvenating getaway, Al Liwan Suites stands as a testament to refined elegance and unwavering dedication to guest satisfaction.
Are you planning to travel to Qatar? Check out our Qatar Hotel page & Qatar tours.