Welcome to Azraq Restaurant at Banana Island Resort. In this article, we will take you on a journey through this fantastic dining spot. Azraq Restaurant is a special place where you can enjoy delicious food while surrounded by the natural beauty of the Persian Gulf.
Here is more than just a place to eat; it is an experience that combines great flavors with a lovely setting. Whether you are a food lover looking for a delightful meal, a family searching for a friendly place to dine, or a couple seeking a romantic dinner by the sea, Azraq has a lot to offer everyone. Let's explore the world of Azraq Restaurant and discover what makes it an outstanding dining destination.
Azraq at Banana Island Resort Reviews
Azraq at Banana Island Resort has garnered positive reviews from both locals and tourists. Many guests praised the beautiful setting of the restaurant by the sea, which creates a calm and pleasant ambiance for dining.
They appreciate the varied menu, which offers a wide range of dishes, including fresh seafood and international dishes.
The restaurant's friendly staff and family-friendly atmosphere have also received commendation, making it a suitable spot for visitors of all ages.
Also, customers have expressed their satisfaction with Azraq's attentive service and the quality of the food.
The restaurant caters to a variety of dining preferences, making it a popular choice for those looking to enjoy a memorable meal in a beautiful seaside setting.
Overall, Azraq Restaurant consistently receives favorable reviews for food, service, and ambiance, contributing to its reputation as a must-try dining destination at Banana Island Resort.
Azraq Restaurant at Banana Island Resort Doha Menu
Azraq at Banana Island Resort offers a great menu to satisfy all kinds of tastes. The Azraq at Banana Island Resort menu features a wide selection of fresh seafood dishes, showcasing the best catches from the nearby waters.
From succulent prawns to flavorful fish, these dishes are prepared to highlight the natural flavors of the sea.
In addition to seafood, Azraq offers a selection of international dishes that draw inspiration from different cuisines around the world.
You can taste Italian pasta, indulge in Asian flavors, or enjoy Middle Eastern cuisine, all crafted with care to provide an unparalleled dining experience.
Azraq at Banana Island Resort is a place where you can enjoy delicious food in a beautiful seaside setting, making your dining experience truly memorable.
Azraq Restaurant Doha Menu for Breakfast
Azraq Restaurant offers a breakfast menu with a variety of delicious options to suit different tastes. For those who prefer to start the day with vegetables, the Veggie Omelette is a great choice, featuring onions, peppers, tomatoes, and spinach.
If you want a more complete breakfast, the Western Omelette with turkey ham, peppers, onions, and a blend of three cheeses is sure to satisfy.
Health-conscious people can opt for the Egg White Omelette, which includes onions, spinach, and asparagus.
For those who prefer a classic breakfast, Azraq serves classic dishes like the Classic Egg Benedict with turkey ham and hollandaise sauce, as well as the Smoked Salmon Benny with smoked salmon, cream cheese, and poached eggs.
If you are looking for a vegetarian option, the Egg Florentine with wilted spinach and hollandaise or the Avocado Benedict with smashed avocado are delicious choices.
In addition, the menu offers a range of hot beverages, teas, fresh juices, and healthy drinks to complement your breakfast.
Azraq at Banana Island Resort Price
Azraq Restaurant offers breakfast options at reasonable prices, with omelets priced at around 45 to 49 QAR and egg benedicts ranging from 50 to 59 QAR.
The hot beverages are priced at 30 to 40 QAR, while the tea selections are around 35 QAR. Fresh juices and healthy drinks are available at 45 to 50 QAR.
Chef's signature dishes like Vegan Benedict, Gluten-Free Pancakes, Healthy Parfait Bowl, and Warm Quinoa Bowl are priced at approximately 45 to 49 QAR.
These prices make Azraq Restaurant a budget-friendly choice for a delightful breakfast experience in a beautiful seaside setting.
Banana Island Resort Doha by Antara Location
Azraq Restaurant is inside the Banana Island Resort, which is near Doha, the capital of Qatar. You can get to Banana Island by taking a short ferry ride from Doha.
The ferry ride itself is nice because you can see the pretty Gulf waters. When you arrive at Banana Island, it is very easy to walk to Azraq Restaurant from the ferry terminal.
It does not matter if you are from Doha or just visiting; Azraq Restaurant is always easy to reach, and you can enjoy a tasty meal with a view of the sea. Its location and easy access make it a great choice for dining in Qatar.
Banana Island Resort Doha by Anantara nearby attractions
Azraq Restaurant at Banana Island Resort offers more than just fantastic food; it is also surrounded by several amazing attractions to make your experience even delighter. In the following, we introduce some of the most popular attractions near the restaurant.
Banana Island Beach
The resort itself offers a beautiful beach where you can relax, sunbathe, or take a refreshing swim. This hotel is just a few steps away from Azraq restaurant, making it a perfect place to sunbathe and enjoy the sea.
Marine Activities
If you are active and adventurous, you can participate in various water sports and activities like snorkeling, jet skiing, and paddleboarding. These activities are right at your fingertips, allowing you to create lasting memories on the water.
Anantara Spa
For those seeking relaxation and rejuvenation, the Anantara Spa at Banana Island Resort is a must-visit. It offers a wide range of spa treatments, including massages and facials, ensuring you leave feeling refreshed.
If you are looking to diversify your dining experiences, do not miss Al Nahham, another restaurant within Banana Island Resort. It offers Arabic cuisine in a stunning waterfront setting and provides a different culinary adventure.
Cinema Under the Stars
The resort occasionally hosts "Cinema Under the Stars" events, where you can watch movies on a big screen right by the beach. It is a unique and enjoyable way to spend an evening with family and friends.
Sunset Cruises
Banana Island Resort offers sunset cruises where you can sail around the island and enjoy amazing views of the sun setting over the Gulf. It is a romantic and memorable experience.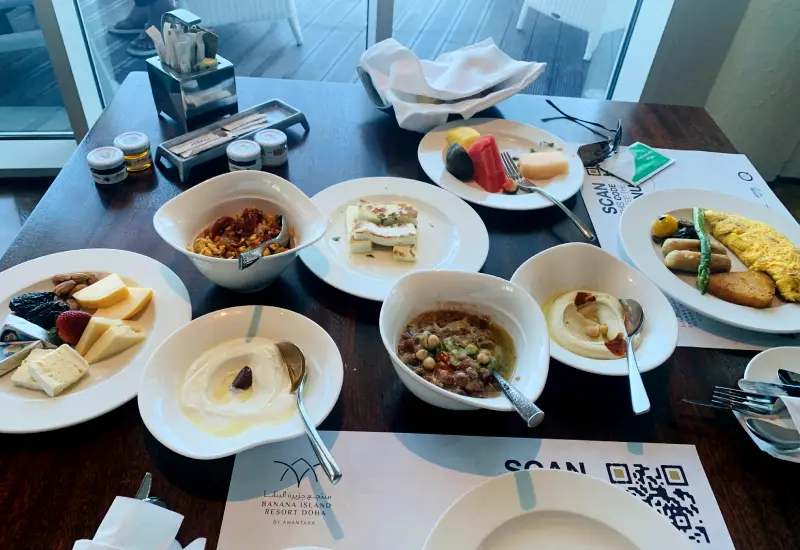 Kids Club
If you are traveling with children, the Kids Club at the resort is a great place for them to have fun and make new friends while you relax or dine at Azraq Restaurant.
Final Word
Azraq Restaurant at Banana Island Resort is highly regarded as a restaurant appreciated for its stunning beachfront location, varied menu and warm hospitality.
Visitors from all walks of life have shared their positive experiences, praising the restaurant's ability to cater to different tastes and preferences. Azraq offers a welcoming atmosphere and delicious cuisine to meet your needs.
With consistently positive reviews, it is clear that Azraq Restaurant has earned its reputation as a top choice for those looking to enjoy great food in a beautiful seaside setting.
So, if you are looking for a delightful dining experience in Qatar, Azraq at Banana Island Resort is certainly worth a visit.
Are you planning to travel to Qatar? Check out our Qatar tours including.