The International Horticultural Expo 2023 in Doha represents a landmark event as the very first international horticultural exhibition in the Middle East and North Africa region. With the compelling theme, "Green Desert, Better Environment", the Expo aims to inspire and inform people about innovative solutions for reducing and combatting desertification.
Qatar is keen to host a comprehensive exhibition that will attract a global audience, including representatives from 80 countries, international organizations, the private sector, non-governmental organizations, and the general public.
With a diverse range of participants, from prominent decision-makers to children, Expo 2023 Doha is set to be a multimedia extravaganza featuring exceptional exhibitions, diplomatic meetings, trade sessions, public discussions, and live performances.
It is a unique initiative that showcases the power of horticulture in transforming arid landscapes into greener, more sustainable environments.
Qatar Green Desert
The theme of the Qatar Green Desert, "Green Desert, Better Environment," is based on four main subthemes:
Modern Agriculture
This subtheme focuses on delivering innovation, research, and scientific progress to ensure the production of safe, sustainable, and accessible food for the growing global population. It emphasizes the need for advanced agricultural methods to meet the increasing demand for nourishing and eco-friendly food.
Technology and Innovation
It is very important to use new techniques to increase agricultural productivity and maintain environmental balance.
Technological advances play an important role in the development of flexible and efficient farming methods and greatly reduce dependence on chemical agriculture.
Environmental Awareness
Increasing global awareness is necessary to promote long-term changes in attitudes and behaviors towards the environment.
It serves as a tool to encourage conservation of natural resources, connect people to the natural world, and promote sustainable development.
Sustainability
Achieving humanity's common goal of balancing diverse needs at the local and global levels and creating transformative lifestyles, business practices, and government policies that align with global environmental challenges.
What Is the Qatar Expo 2023 Plan?
The Qatar Expo 2023, in Doha, will be the first international horticultural exhibition in the Middle East and North Africa region. Its main goal is to inspire and inform people about innovative solutions to reduce and fight desertification.
This expo aims to shed light on the importance of sustainable horticulture in arid regions like Qatar and its potential to create a greener, more environmentally friendly future.
Through various exhibits and activities, it will showcase strategies and technologies to combat desertification and promote a better environment.
What Is the Theme of the Qatar Expo 2023?
The theme of the Doha Expo 2023 is 'Green Desert, Better Environment.' This theme includes the exhibition's focus on sustainable horticulture and environmental protection.
It highlights the unique challenges and opportunities presented by Qatar's arid landscape, where innovative use of horticulture can contribute to a greener and more environmentally friendly future.
The exhibition showcases the various ways in which horticulture can be used to improve the environment and promote harmonious coexistence between urban development and nature, making it an excellent platform for exploring solutions to global environmental challenges.
Expo 2023 Doha Location
The location of Expo 2023 Doha is at Al Bidda Park in the heart of Doha, Qatar. This place is divided into three separate areas, with the northern part hosting the international event.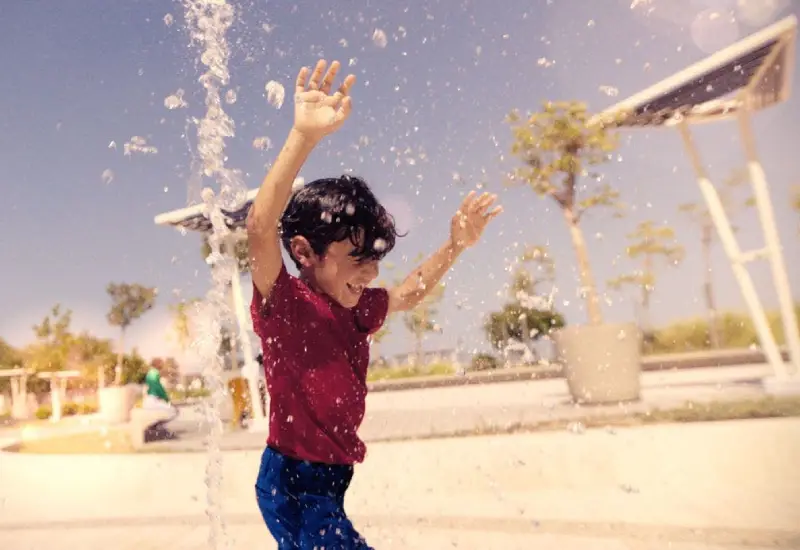 The other two areas will be used for various cultural and recreational activities, group discussions, and other supplementary purposes.
Al Bida Park's central location in Doha ensures that the Expo is easily accessible and centrally located, making it a convenient and prominent destination for visitors and attendees from around the world.
Different Areas of the Expo 2023 Doha Qatar
Expo 2023 Doha includes different areas, each of which has its own unique goals and offers:
International Area (70 hectares)
This area serves as the gateway to Expo Qatar and is the focal point for gardens, exhibitions, and international events.
It has the Expo 2023 exhibition building, specially built for the event. Inside this building, you will find an open event space, a prayer room, and a ground-level café.
The first floor of the exhibition building houses a media center and various offices, while the building's rooftop includes a terrace, an indoor restaurant, and a garden.
The International Area also has an Innovation Center, which includes an exhibition space for interactive events.
This space is designed to engage with the subthemes introduced at the exhibition, including a dedicated area for children to learn more about the exhibition's topics.
Family Area (50 hectares)
The Family Area is a central hub for entertainment, family activities, gatherings, and outdoor events. It provides a space for families to enjoy their time at Expo 2023 Doha, offering a range of exciting and engaging activities.
Cultural Area (50 hectares)
The Cultural Area is dedicated to cultural and traditional exhibitions and activities. Its strategic location, near the historical core of Doha, and features like ancient fortresses and stones make it an ideal place for cultural events.
Expo 2023 Doha Tickets
Expected to attract more than 3 million visitors from around the world, Expo 2023 Doha is set to be a significant international event.
One notable aspect of the Expo is that entry to the Expo Qatar grounds is entirely free for all participants.
This accessibility underscores the Expo's commitment to fostering global participation and sharing innovative ideas, making it an event that encourages the widest possible audience to engage with horticulture and sustainability.
How Long Is the Expo in Qatar 2023?
The International Horticultural Expo 2023 in Doha is set to be a remarkable event that will be held from October 2, 2023, to March 28, 2024. This exhibition, with a duration of 179 days, is a unique opportunity for visitors to discover beauty.
This six-month extravaganza promises a rich and varied program, ensuring visitors have plenty of time to enjoy and learn about the wonders of horticulture while embracing the concept of a greener, more sustainable future.
Expo 2023 Doha Address and Accessibility
The location of Expo 2023 Doha offers exceptional accessibility and is situated in a prime area of the city. It is conveniently located just a few steps away from the Corniche, a popular seaside promenade in Doha, and near the historic core of Doha, including Msheireb and Souq Waqif.
It is well connected with two newly developed Doha metro stations, the Corniche Station and the Al Bidda Station, providing convenient transportation options. In addition, there are five large underground parking facilities to accommodate visitors.
Al Bidda Park, where the Expo is hosted, is one of Doha's key public green spaces, offering beautiful landscaping and great views of the blue waters of the Persian Gulf.
The excellent location, quality garden landscapes, and enough space for pavilions make Al Bidda Park an ideal and fitting venue for hosting such a significant international event.
Visitors to Expo 2023 Doha will enjoy easy access to this vibrant and accessible location, ensuring an enjoyable experience.
Expo 2023 Doha Dates
Expo 2023 Doha opened on October 2, 2023, and visitors can visit it for 179 days in Qatar's mild winter. This grand event will take place within a vast 170-hectare area and will draw to a close on March 28, 2024.
The six-month duration of the Expo offers visitors a long period to fully familiarize themselves with the world of horticulture, explore innovative solutions, and engage with the theme of "Green Desert, Better Environment."
With its impressive timeline, Expo 2023 Doha promises a rich and diverse program that provides ample opportunities for people from around the world to witness and participate in this unique horticultural experience.
Expo 2023 Doha Opening Hours
The opening hours for the Expo vary during the week. From Sunday to Wednesday, the International Zone welcomes guests from 10 a.m. to 8 p.m., providing ample time for visitors to attend international exhibitions and displays.
Meanwhile, the Cultural and Family Zone extends its hours, remaining open from 10 a.m. until 10 p.m., allowing for a more extended experience in cultural and family-oriented activities.
How to Visit Qatar Expo 2023?
To visit the Qatar Expo 2023, you can become a part of this exciting event by following a simple process. To get started, you will need to fill out the "Participation Form" and include a "Theme Statement" that reflects your vision and objectives for the event.
These documents are necessary for your participation. After filling in all the required details, you can email the completed forms to [email protected].
This allows you to express your interest and commitment to being a part of Expo 2023 Doha, where you can explore the wonders of horticulture and contribute to the event's success.
Final Word
The International Horticultural Expo 2023 in Doha, Qatar, is poised to be a transformative event of global significance.
As the first horticultural exhibition in a dry climate, it holds the potential to make a substantial impact not only in Qatar but also throughout the region and the world.
This exhibition acts as a powerful advocate for sustainable practices, enhancing environmental awareness, and advancing green technologies tailored for urban environments and arid regions.
For those seeking inspiration, innovation, and insights into the future of horticulture and environmental sustainability, Expo 2023 Doha is an unmissable opportunity. You can contact Maraya Tours to explore more about this event and participate in it.
Are you planning to travel to Qatar and looking for a Qatar travel agency? Check out our Qatar tours and feel free to contact us.