Qatar, officially known as the State of Qatar, is a sovereign country in Western Asia, occupying a small peninsula. Qatar has made remarkable strides in developing its tourism industry in recent years. Despite its relatively small size, Qatar is renowned for its rich culture, modern infrastructure, and its significant presence in the global sporting community, particularly in football. In this article, we will learn more about one of the greatest stadiums of Qatar, Jassim Bin Hamad Stadium at Al Sadd Club.
Jassim Bin Hamad Stadium at Al Sadd Club
Known by several names, including Al Sadd Stadium and Al Sadd Sports Club Stadium, Jassim Bin Hamad Stadium is a well-known football stadium in Doha, Qatar.
It is one of the numerous cutting-edge stadiums built for Qatar's 2022 FIFA World Cup hosting. The Al Sadd Sports Club's founder, Sheikh Jassim bin Hamad Al Thani, is honored with the name Jassim Bin Hamad Stadium.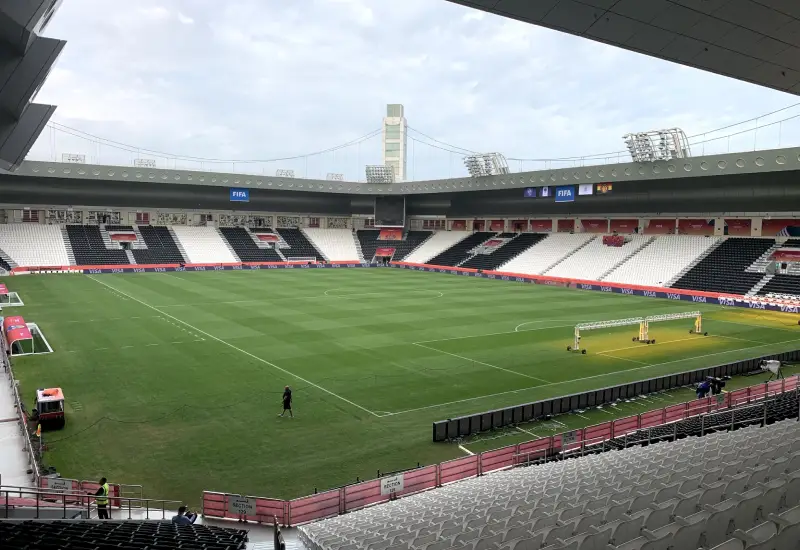 Jassim Bin Hamad Stadium's Capacity is one of its key features, which can house many fans and football lovers.
Apart from football games, Jassim Bin Hamad Stadium has also played host to several athletic events and musical performances.
Due to its adaptability and contemporary features, it may be used for a variety of events and entertainment activities.
Jassim Bin Hamad Stadium Design
There are about 12,946 seats available in Jassim Bin Hamad Stadium. Modern and traditional Qatari architectural elements coexist in the stadium's design. Paying respect to Qatar's nautical heritage, its unusual structure boasts a striking exterior inspired by the sails of ancient dhow boats.
The retractable roof of the stadium enables climate control during games and activities. The stadium's amenities are made to give both players and spectators an elite experience.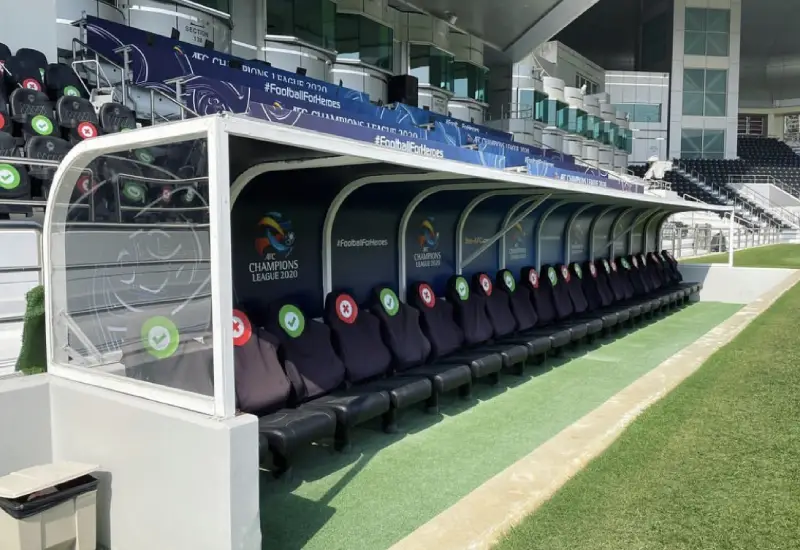 It has cutting-edge broadcast and media spaces, VIP lounges, and changing rooms. Viewers are treated to an intimate setting with great views from every angle, thanks to the seating arrangement.
Functionality, beauty, and sustainability are all combined in Jassim bin Hamad Stadium's design, which follows the growing trends in stadium building architecture.
The Al Sadd neighborhood of Doha serves as a famous landmark and offers visitors a contemporary and comfortable setting.
Jassim Bin Hamad Stadium and FIFA 2022
The FIFA World Cup 2022 saw a lot of action at Jassim Bin Hamad Stadium. It played host to multiple games, including a Round of 16 match and group stage contests.
Football fans from all over the world visit the stadium because of its closeness to the city center and accessibility to many transportation options.
Jassim Bin Hamad Stadium renovation before FIFA matches made a great impact on the event. Moreover, Jassim Bin Hamad Stadium's renovation and construction are in line with Qatar's goal of becoming a major international center for entertainment and sports.
It is evidence of the nation's dedication to creating first-rate infrastructure and fostering a football culture. The stadium is a representation of Qatar's love of athletics and its desire to play host to important international competitions.
Jassim Bin Hamad Stadium Facts
In remembrance of Sheikh Jassim bin Hamad bin Khalifa Al Thani, the late Emir of Qatar, the stadium is officially known as Jassim bin Hamad Stadium.
It is in Qatar's capital city, Doha, in the Al Sadd neighborhood.
The home stadium of Al Sadd Club, one of the most prosperous and well-liked football teams in Qatar, is Jassim bin Hamad Stadium.
The stadium is medium-sized in terms of capacity, with seating for about 15,000 spectators.
To be ready for the FIFA World Cup in 2022, the stadium underwent extensive renovations. These included raising the seating capacity and modernizing the facilities to international standards.
Jassim bin Hamad Stadium hosted several matches during the 2022 FIFA World Cup, including group stage matches and knockout stage matches.
The stadium is also used for various other events, including concerts, cultural events, and sporting events.
The stadium's seating sections are covered by a unique roof structure. The roof makes spectators more comfortable during games by offering shade and sun protection.
The stadium is situated near the Aspire Zone, a massive sports complex in Doha that includes training facilities, the Aspire Dome, and Aspire Park. This proximity allows for easy access to additional sporting and recreational amenities.
A lasting legacy will be created by Jassim bin Hamad Stadium long after the 2022 FIFA World Cup. The renovated stadium will keep up its significant role as a football game location and support the growth and promotion of football in Qatar.
How to Get to Jassim Bin Hamad Stadium
Many football fans or tourists may wonder how to get to Jassim Bin Hamad Stadium. Well, to get to the Jassim Bin Hamad Stadium Location, you have a variety of options.
If you are traveling with a private vehicle, you normally put the address in your Google Maps and follow the roads and directions.
You can also use Qatar public transport. Using the metro is one of the most efficient ways to get to the location of the stadium.
You can take a metro ride to the Al Sadd Metro station on the Gold Line. From there, you can take a short walk to the stadium.
The public bus network of Doha is also available, and you can find your way to the nearest bus stops of stadiums, such as Al Sadd Sports Club Bus Stop and Al Sadd Club Bus Stop.
Jassim Bin Hamad Stadium Location
Doha, Qatar, is home to the professional football team Al Sadd Club, sometimes referred to as Al Sadd. Al Sadd is one of the most prosperous and well-liked football teams in Qatar and the larger Middle East, having been founded in 1969.
The team has a long history, a devoted following, and a notable impact on Qatari football. The Al Sadd neighborhood, which has a long history in football, is where the stadium is located.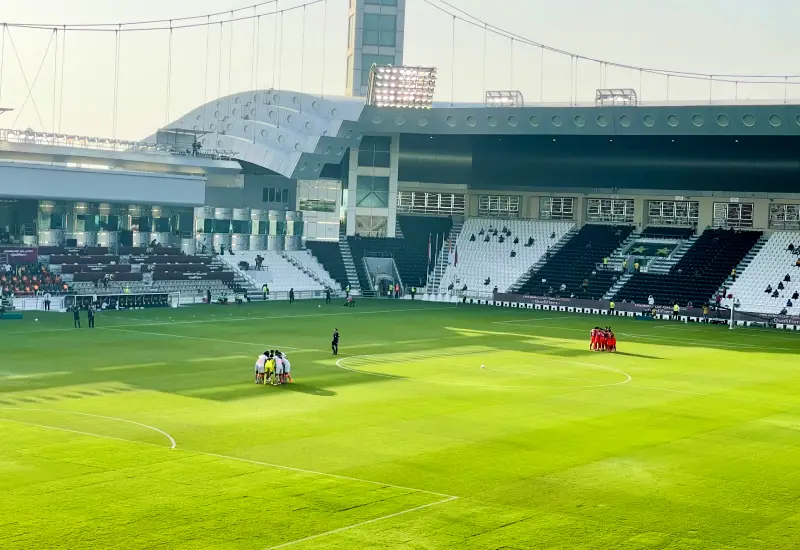 One of the most well-liked football teams in Qatar, Al Sadd Sports Club, calls this place home. The stadium has seen a great deal of memorable games and team victories, making it especially treasured in the eyes of Al Sadd's devoted supporters. The stadium is easily accessible via cars and public transportation.
Final Words
One of the most significant developments in Qatar's tourism industry is its hosting of the 2022 FIFA World Cup, which has played a crucial role in shaping the nation's infrastructure and attracting global attention.
In preparation for the tournament, Qatar has constructed state-of-the-art football stadiums that are designed to meet international standards while showcasing innovative and sustainable architectural concepts. Jassim Bin Hamad Stadium is one of the amazing stadiums of Qatar, which also hosted some events of the FIFA World Cup.