Situated in the heart of the Middle East, Doha, Qatar's hustling and bustling capital, is a popular destination for anyone interested in visiting the world. Doha is one of the best destinations for those exploring Asia, especially Arabic countries. Tourist attractions are mostly designed for adults; however, in the center of Doha, the OliOli Doha Museum provides a new opportunity for having enjoyable times with your kids. In this article, we will introduce a must-visit children's museum in Doha, the OliOli Museum.
OliOli Doha
A place where love and joy come together! Everything is ready at OliOli Doha to create an amazing family fun experience for visitors and to develop the unseen sides of children's brains.
The OliOli Doha Museum is the must-go location for all travelers and locals to have a unique and experimental family activity.
The OliOli Doha provides world-class galleries and joyful items for both parents and children. Moreover, the museum also provides interactive items, which is ideal for younger educators.
The world of OliOli Doha is very immersive and fun to discover. In fact, the word "Oli Oli" means joy and fun in Hawaiian and fits the museum very well.
The museum features various themed galleries and interactive installations that encourage children to explore, discover, and learn through play. Some exhibits may include areas dedicated to art, science, and technology and even a dedicated zone for toddlers.
Water Gallery
The Water Gallery is a zone where science and theories take action. The gallery involves exhibits that include a ball cannon, vortex, and rain.
Future Park
Future Park is an imaginative gallery ideal for kids and adults to face time and space.
Cars & Ramps
It's an area where children can test their minds, design and build their cars, and face different strategies to win a creative battle with others.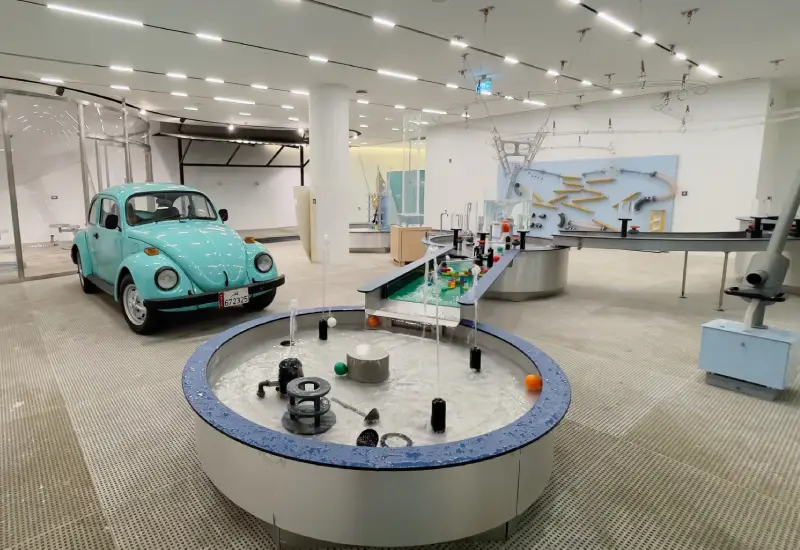 Incredi-Balls
Here is a creative area that involves balls and different items. It is a playful section where kids can have fun with simple creativity.
Toddlers
The Toddlers is a dedicated gallery for the youngest visitors to grow their skills in socializing and having fun.
Dino Quest
Dino Quest is a playful area dedicated to children exploring and discovering the land and finding their inner explorers.
OliOli Doha Design Elements
The OliOli Doha is a children's museum that aims to promote creativity and critical thinking in children, along with fun and joy.
In this part, we will describe the differences in the design of a children's gallery or museum. Some elements should be featured or focused in the design of a children's museum.
Playful Layout
Children's museums often have an open layout with designated zones or areas that allow children to freely explore and interact with the exhibits. The design may encourage a sense of curiosity and discovery.
Interactive Exhibits
Exhibits in children's museums are designed to be interactive, encouraging children to touch, manipulate, and experiment.
These exhibits may involve sensory experiences, hands-on activities, and engaging multimedia elements to make learning fun.
Educational Themes
Children's museums like the OliOli Doha typically have different themed sections or galleries, each focused on a specific educational topic such as science, art, nature, or technology.
The design of these areas aims to create immersive environments that spark children's interest and encourage active participation.
Safety and Accessibility
Children's museums prioritize the safety and accessibility of their facilities. The design incorporates child-friendly materials and age-appropriate equipment.
Multi-sensory Experiences
Children's museums incorporate elements that engage multiple senses, such as interactive displays, sounds, lights, textures, and scents.
These multi-sensory experiences enhance children's engagement and help create memorable learning experiences.
OliOli Reviews
The OliOli Doha has gained a positive reputation for its focus on experiential learning and providing a safe and stimulating environment for children.
The museum aims to promote creativity, critical thinking, and problem-solving skills in an enjoyable and interactive way that can be interesting for both children and parents.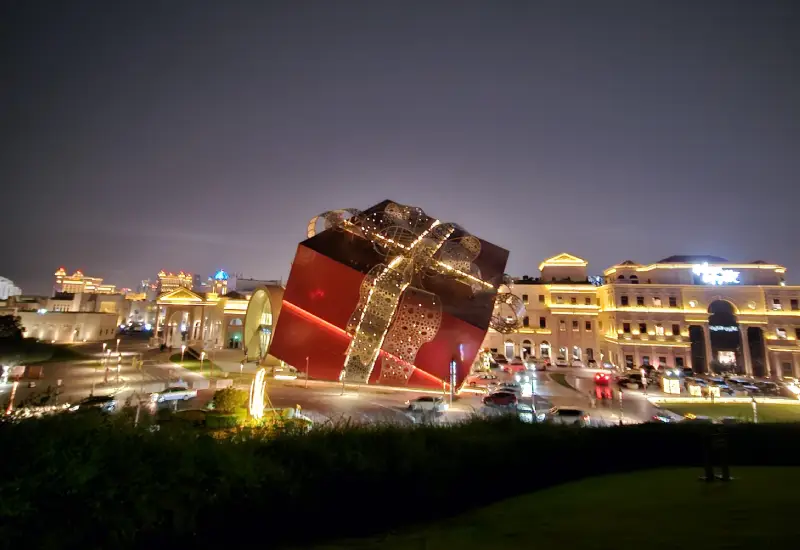 OliOli Reviews suggest that this place is ideal for kids and helpful for their critical thinking and imagination.
OliOli Reviews and users show that this place is a must-visit location, especially for those who want to spend a weekend with their children and have a family fun activity and enjoyable moments.
OliOli Musuem's Location
The OliOli Museum is situated in Katara Cultural Village, the heart of Doha, and a popular destination for travelers. Katara Cultural Village includes several tourist attractions and is the most-favored location in Doha, the capital city of Qatar (OliOli on Google map)
There are beautiful cafes, parks, and museums inside Katara Cultural Village. The location of the OliOli Children's Museums is accessible via car and Qatar public transport like metro, and taxi.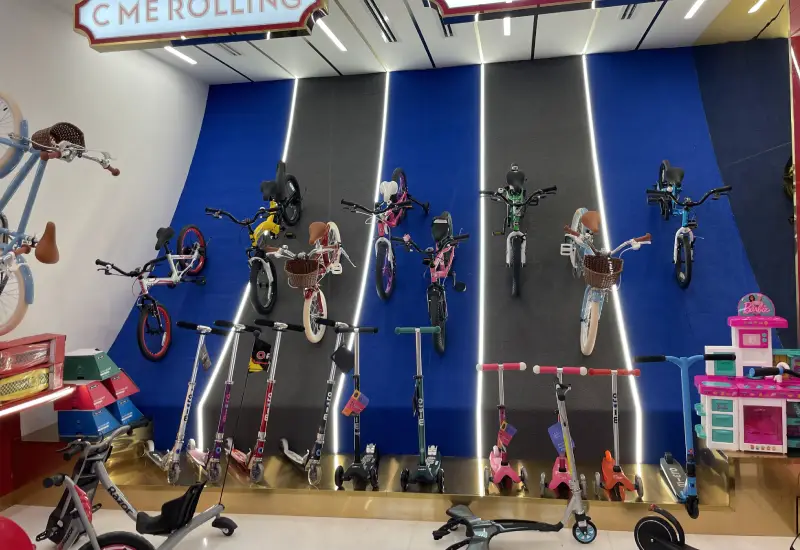 The museum is also located near famous hotels, so travelers won't have any difficulties making their accommodations. You can also find superb restaurants near the museum. Katara Cultural Village is a must-visit location for tourists.
OliOli Museum Information
OliOli Doha is accessible via car and taxi and is located in Katara Cultural Village. OliOli Doha's timings are from Monday to Sunday.
OliOli Doha Tickets are available on their website, and they can also be purchased at the museum. OliOli Doha Ticket price is reasonably affordable and is not very expensive, making it suitable for all kinds of travelers and locals.
OliOli Contact Number: +971 4 702 7300
Address: Katara Cultural Village Children's Mall, 21 High Street, Doha, Qatar
OliOli Doha Timings:
Monday: 9 am – 6 pm
Tuesday: 9 am – 6 pm
Wednesday: 9 am – 6 pm
Thursday: 9 am – 6 pm
Friday: 9 am – 7 pm
Saturday: 9 am – 8 pm
Sunday: 10 am – 7 pm
Final Words
The OliOli Doha is a must-visit destination that brings new opportunities for creating great moments and memories with your family.
The OliOli Children's Museum is located in the center of Doha and is highly recommended if you want to have unique moments and make yourself, your inner child, and your kids happy.
OliOli Doha Ticket Price is affordable and is ideal for gathering both love and family together. Make sure to explore Doha if you are traveling to Qatar, and stop by OliOli Museum.
Are you planning to travel to Qatar and looking for a Qatar travel agency? check out our Qatar tours.