Doha is home to a diverse range of international restaurants that not only offer delicious cuisine from around the world but also provide unique and stylistic dining experiences. These establishments go beyond just serving food and focus on creating memorable moments for their guests through their innovative concepts and ambiance.
Brazilian Restaurant Doha
Doha is home to various local and international brands. Famous hotels, chain restaurants, and restaurants offer an authentic journey and an introduction to the food culture of a specific country.
Ipanema in Doha is one of the most popular destinations for those who want to explore the food culture of Brazil, which is not only famous for its sports and nature but also well-known for its unique cuisine.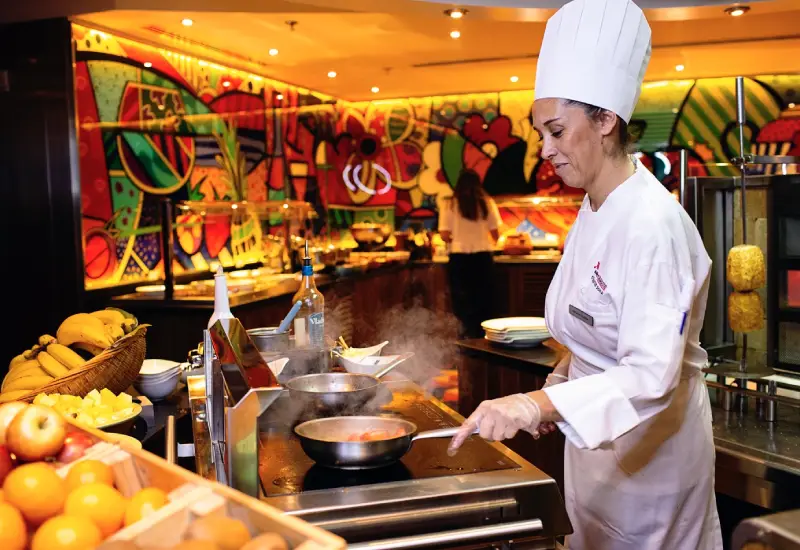 Ipanema Doha provides a great opportunity for both tourists and locals. The Ipanema Doha restaurant menu is served in a stylistic way called Churrascaria.
Churrascaria is a char-grill method that is popular worldwide. Interestingly, the name of Ipanema, which is also situated in the Ipanema Marriott Marquis City Center Doha Hotel, comes from the famous neighborhood in Rio de Janeiro, Ipanema, and the concept behind this name is to introduce the Brazilian culture. This place is ideal for those who are in the mood for a Brazilian Restaurant in Doha.
Ipanema in Doha Outlook & Design
Ipanema offers a vibrant and authentic dining experience that showcases the rich flavors and unique culinary traditions of Brazil.
Situated in the luxurious Marriott Marquis City Center Doha Hotel, Ipanema captures the essence of Brazilian culture through its lively atmosphere, warm hospitality, and, most importantly, its delectable cuisine.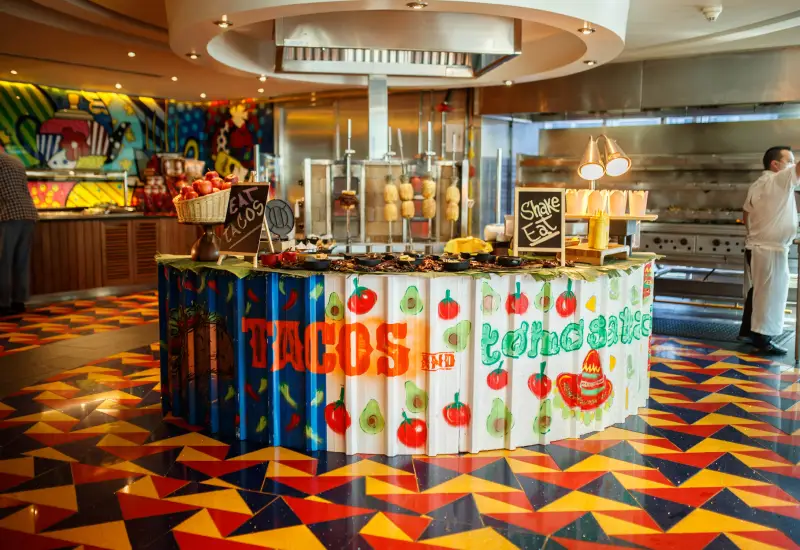 The restaurant's interior is designed to reflect the vibrant spirit of Brazil, with colorful décor, tropical accents, and a lively ambiance that transports guests to the lively streets of Rio de Janeiro.
Ipanema frequently hosts live music events, including classic Brazilian music genres like bossa nova and samba, to augment the cultural experience.
Diners are treated to a celebratory atmosphere created by the upbeat sounds and upbeat lyrics, which further enhance the lively ambiance.
Ipanema Doha Menu
The Ipanema restaurant menu consists of a variety of traditional Brazilian dishes and cuisine. Ipanema's traditional Brazilian churrascaria-style dining is its main attraction.
The term "churrascaria" describes a Brazilian style of grilling meat that involves skewering different kinds of meat and slowly roasting them over an open flame.
Savory meats are supplied at Ipanema in an unlimited quantity to patrons. The meat is carefully sliced by Passadores, or meat carvers, at the table for each diner.
This kind of eating offers a distinctive and engaging experience, letting patrons enjoy an extensive array of tastes and cuts, such as succulent beef, succulent lamb, aromatic chicken, and more.
Apart from the churrascaria experience, the Ipanema Restaurant Doha menu has a large buffet with a variety of salads and side dishes from Brazil.
These include classic Brazilian dishes like pão de queijo (cheese bread), farofa (toasted cassava flour), and colorful salads with fresh ingredients and tropical flavors. Feijoada is a black bean stew with meat. The grilled meats go well with the buffet, enabling patrons to put up a filling and varied lunch.
Ipanema Doha Price
Ipanema provides a lively and genuine eating experience that highlights the distinctive flavors and culinary customs of Brazil. The rich menu of Ipanema has a variety of dishes and dining options, and the price for each one of them differs.
However, the Ipanema Doha menu price is not very expensive due to its luxurious design and delicious cuisine. Ipanema Restaurant Doha buffet price is also economical and is an ideal choice for family gatherings and group dining.
Ipanema Doha Reviews
Ipanema Restaurant Doha is a popular location for having a culinary journey. There have been many reviews submitted for this restaurant online, and 90% of diners have enjoyed their experience in this restaurant.
One of the users describes this place as a culinary masterpiece. One standout aspect of Ipanema in Doha is their commitment to using fresh ingredients.
The quality of the ingredients is evident in every bite, elevating the overall dining experience. The service is exceptional throughout the evening.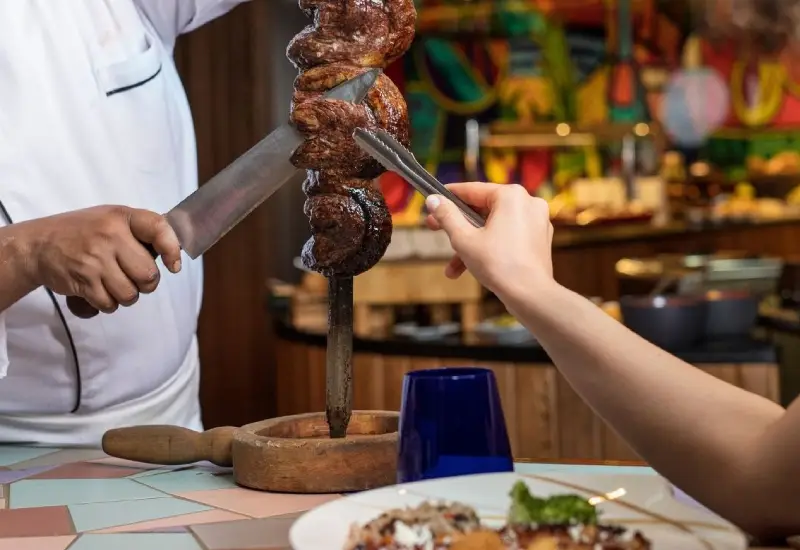 The waitstaff is knowledgeable, attentive, and passionate about the food they serve, and all of the guests are warmly welcomed.
The ambiance of the restaurant is another notable feature. Elegant yet cozy vibes, with soft lighting and tasteful decor, have created a welcoming and relaxed atmosphere.
The menu at "Ipanema Doha" is also a culinary masterpiece. Offering a fusion of flavors and innovative twists on dishes. Overall, the Ipanema Restaurant in Doha is highly recommended.
Ipanema Doha Location
The Ipanema Restaurant is situated in the heart of the capital city, Doha, an introduction and a journey to the Brazilian culture inside the Middle East. The location of Ipanema is inside the Marriott Marquis City Center Doha Hotel.
The hotel is conveniently located in the north of Doha and is easily accessible via car and taxi. The distance from the restaurant to the Persian Gulf is only a 10-minute walk. Moreover, you can also explore the area of the restaurant after you've eaten your meal since it is situated near many grand malls, parks, and museums.
Al Dafna Park, Msheireb Enrichment Center, and The Corniche are some of the locations you can visit near Ipanema Doha.
Pieces of Information
The Ipanema Restaurant is situated in the heart of Qatar and is easily accessible via Qatar public transport and private cars. The restaurant is located in the Ipanema, Marriott Marquis City Center Doha Hotel, which can be convenient for foreign travelers if they want to stay at a nice hotel.
There have been more than 1300 reviews made for this restaurant, and approximately all of them have recommended this destination for eating an amazing dish. The restaurant's service is dine-in.
Address: Omar Al Mukhtar Street, Area 61, Al Dafna, Street 850, Doha, Qatar
Contact Number: +974 4419 5510
Website: Click Here
Final Words
Many international brands and unique restaurants are operating in Doha. Ipanema in Doha is one of many great restaurants that offer a unique experience. The team of Ipanema Doha has made a great effort, which has made this place a top Brazilian Restaurant in Doha.
Ipanema Doha's menu price and its super delicious dishes are two of the key points of this place. If you want to experience a delicious Brazilian meal, make sure to visit Ipanema, Marriott Marquis City Center Doha Hotel.
Are you planning to travel to Qatar and looking for a Qatar travel agency? check out our Qatar tours.