One of the most enjoyable parts of traveling to any city or country is shopping and exploring the shopping centers. Qatar shopping centers are among the most important attractions that are on the list of tourists and travelers of this beautiful country. There is a wide variety of shopping centers in Qatar where tourists can purchase souvenirs and goods for themselves or their loved ones. One of the most attractive and popular shopping centers in Qatar is Ezdan Mall Doha, which we will introduce below.
Ezdan Mall Qatar
Ezdan Mall is one of the best shopping centers in Qatar, with branches in three cities of Qatar, Al-Gharafa, Al-Wakrah, and Al-Kair. The Al Gharafa branch of Ezdan Mall was established in 2013.
This lovely shopping center has provided all kinds of famous brands in the world to its customers. Shoppers can find all kinds of men's, women's, and children's clothes, all kinds of shoes and bags, toys, glasses, household appliances, scarves, toiletries, perfumes, colognes, belts, rhinestones, and watches at favorable prices.
After shopping, you can visit the fast food and cafes of Ezdan Mall to relax and relieve fatigue. In addition to cafes and fast food, this shopping center hosts various exhibitions and events in the field of promoting the culture of Qatar, which attracts visitors from all over the world.
These events are more cultural and are held to promote Qatari culture and present its beauty.
Ezdan Mall Doha Facilities
Upon entering the Ezdan shopping center, you will see the magnificent architecture, glass roof, and all kinds of luxury stores such as Flow Qatar shoes, Migato shoes, Children's Place clothing store, Neal's Yard Remedies brand, confectionery, accessories, such as watches, glasses, electrical appliances and so much more.
This popular shopping center has 200 commercial shops on three luxurious floors and has a total area of 124,000 square meters.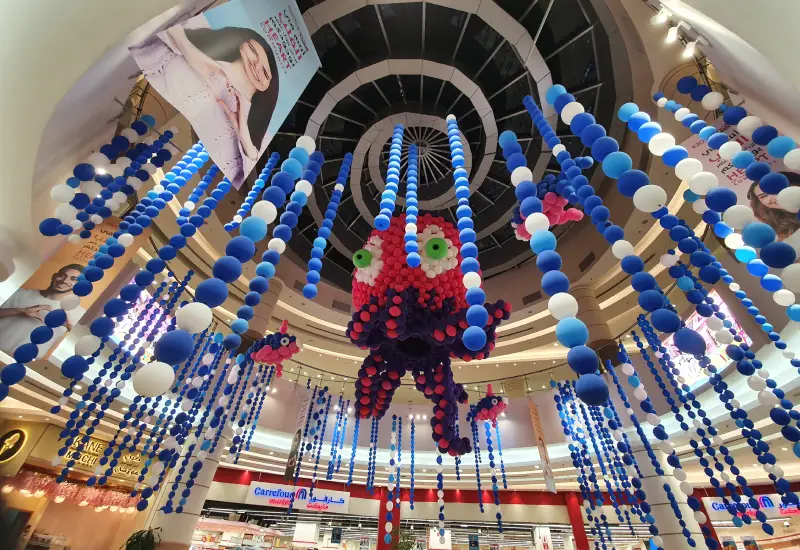 All kinds of restaurants and cafes, laundromats, different bank branches, medical clinics, car washes, elevators, escalators, wheelchair-accessible entrances, car parking, good ventilation, and a mosque are among the important amenities of this business and entertainment complex.
Two hypermarkets on the floors of this complex offer all kinds of food, fruits, and edibles. A small amusement park for children aged 4 to 12 years, along with a birthday and party hall, are other entertainment facilities of this complex.
Read more: Top Qatar Souvenirs
Ezdan Mall Shops
This large shopping center is active in the field of fashion and clothing and offers more than 50 prestigious global brands to its visitors. The most important feature of the Ezdan shopping center is the presence of representatives of the world's big toy brands, which is why it is very popular with children and families.
Ezdan Mall Ghafara Restaurants
Burger King branches in Ezdan Mall, KFC, Starbucks coffee, and Magnolia French bakery brand next to the Ezdan Mall food court have doubled the attraction of this shopping center.
In the restaurants of Ezdan Mall, you can find a variety of Arabic, Lebanese, European, and American dishes that are suitable for a quality meal with family and friends.
Restaurants and food courts of this shopping center are open and ready to serve from Sunday to Wednesday, from 10 am to 11 pm, and from Thursday to Saturday, from 10 am to 12 pm.
Part of the Popular Attractions of Ezdan Mall
Central Glass Dome: One of the architectural attractions of Ezdan Mall is its huge glass dome in its center. This dome is very spectacular both at night and during the day, and you can take very beautiful photos under it.
Vintage Boutique: One of the most special shops in Ezdan Mall is Vintage Boutique. This shop is the first vintage shop in Qatar, which is for lovers of old things. You can find all kinds of vintage clothes, bags, sunglasses, accessories, and magazines at very reasonable prices.
Kane Mochi: Although all kinds of stylish restaurants and cafes are located all over the Ezdan shopping center, Kane Mochi ice cream shop has its popularity.
Mochi is a special kind of Japanese ice cream that includes a wide range of flavors such as mint, melon, chocolate, mocha, banana, milk tea, etc. Also, in this ice cream shop, you can find all kinds of drinks and bubble teas.
Chachooz: Chachooz shop is another special and popular shop in this shopping center. This store has all kinds of gifts, flowers, bags, party decorations, gift arrangements, and everything you need for your celebrations.
Ezdan Mall Timings
Ezdan Mall shops are open from Sunday to Wednesday from 9 am to 10 pm and from Thursday to Saturday from 9 am to 11 pm, and you can go there anytime you want.
The working hours of coffee shops are from Sunday to Wednesday, from 7:30 AM to 11:00 PM, and from Thursday to Saturday, from 7:30 AM to 12:00 PM. Also, the supermarket and hyper store sections are open every day from 8:30 AM to 12 nights open and ready to serve.
Ezdan Mall Opening Hours may be different during Eid and official holidays, so it is better to call before going and make sure of the working hours of the mall.
Ezdan Mall Mertro Station
Ezdan Mall has good access, and you can use both the Doha metro and bus to go there. To go to this attractive shopping center by bus, you can use the M130 and M131 lines, which are about a 10-minute walk from the shopping center. To go to Ezdan Mall by metro, you have to get off at Al Wakra station, which is about a 29-minutes walk.
More Information to Visit Ezdan Mall
Address: Al Juthay St, Doha, Qatar
Phone number: +974 44334141
Website address: Here
Email: [email protected]
Final word
Visiting grand malls, along with tourist attractions and sightseeing, can be very delightful for anyone. In fact, people who have sufficient knowledge of the most luxurious and famous shopping centers can choose the best options according to their taste and have better planning for shopping.
Certainly, one of the best shopping centers in Qatar is Ezdan Mall, which is attractive to both adults and children. So, during your trip to Qatar, be sure to visit the mall and enjoy yourself.
Are you a shopping lover and planning to travel to Qatar? Please read Dar Al Salam Mall article and check our Qatar tours.