Qatar is a rich and diverse country located in the Middle East. This peninsular and small country is home to many attractions, museums, hotels, and restaurants. With its renovations and developments, Qatar has become an ideal location for food enthusiasts and tourists. Doha houses some of the best Arabic and international restaurants, offering high-end quality foods and services. Al Jasra Restaurant is one of the finest places located in the heart of Doha, delivering authentic and precious traditional Qatari vibes. Al Jasra Restaurant Doha is a traditional restaurant and a great introduction to the delicious flavors of Qatar.
Al Jasra Restaurant Souq Waqif
Trying out Qatari cuisine is one of the most enjoyable experiences in Qatar. Traditional Arabic cuisine is a rich, flavorful culinary tradition passed down through generations of families in the Middle East.
Arabic cuisine is a blend of flavors that will satisfy every food lover. The Al Jasra Restaurant in Doha offers some of the best traditional Arabic cuisines with a rich and delicious taste.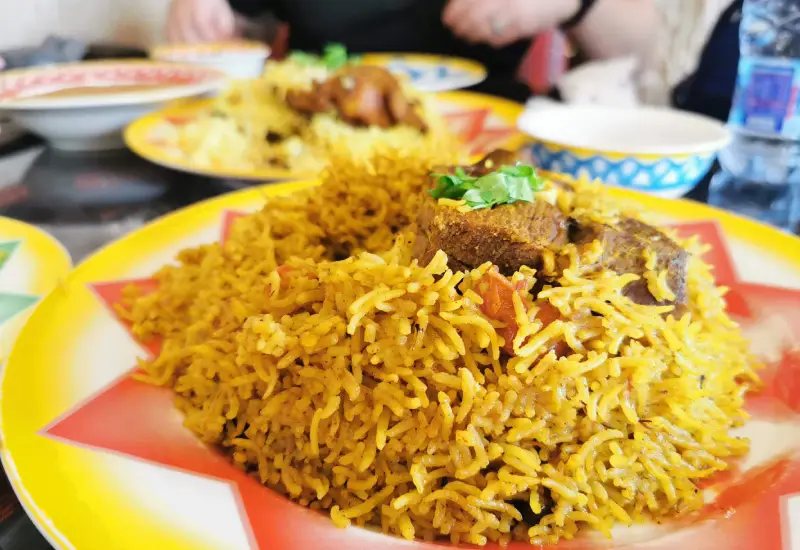 A group of five ladies runs the restaurant in an Arabian home-style building to showcase the culture and history of Qatari people blended with the flavors of the region.
Al Jasra Traditional Food aims to make unforgettable experiences with its high-quality foods and services. The Restaurant is also a great example of Arabian hospitality, with chefs being passionate about making home-cooking foods and delivering services by themselves.
The Al Jasra Traditional Food is a place where people feel the warm atmosphere of Qatar and enjoy a nice homemade-style meal.
Read more: Jiwan Arabic Restaurant
Location of Al Jasra Restaurant
The Al Jasra Traditional Food is located in the business and leisure capital of Qatar, Doha. The restaurant is situated in one of the busiest areas of Doha, also known as the best traditional marketplace in Qatar, Souq Waqif.
The Souq Waqif is a vibrant and cultural marketplace with a rich history dating back to the 19th century. The traditional Qatari architecture in Souq Waqif is reflected through its winding alleys and authentic buildings.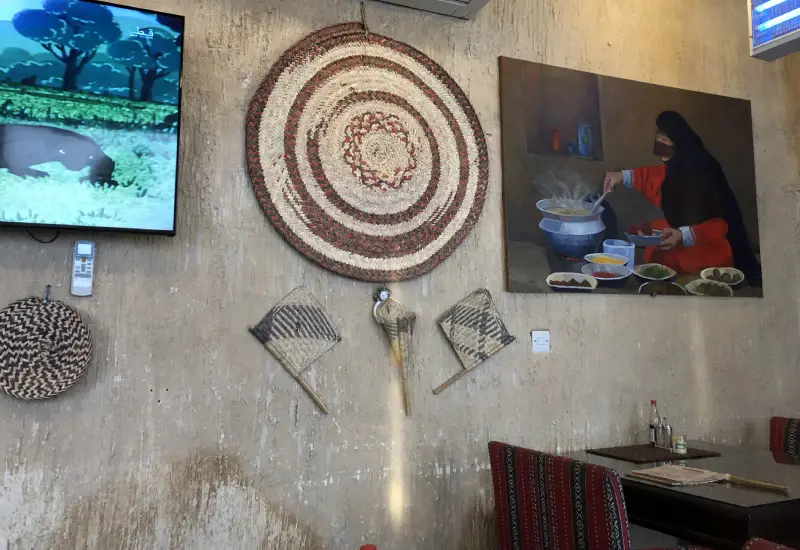 The Al Jasra Traditional Food is situated in one of the winding alleys of Souq Waqif, and it is surrounded by shops and stores and a vibrant atmosphere where you feel alive.
The prime location of the restaurant is easily accessible by public transportation. Also, the nearby attractions of the restaurant, such as Souq Waqif, the Corniche, the Museum of Islamic Art, and the Pearl-Qatar, are accessible for a more leisurely experience.
Design of Al Jasra Restaurant Doha
The Al Jasra Traditional Food Doha is a true representation of Arabic Culture. The exterior design of the restaurant is a mixture of traditional elements blended with modern design. With large glass windows and wooden materials, the Al Jasra Restaurant feels very cozy and relaxing.
Inside the Al Jasra Restaurant, you will feel more comfort and warmth. The interior design is fascinating, and a blend of different colors creates vibrance and warmth.
The walls are decorated with colorful patterns and filled with beautiful paintings done by local artists. Moreover, Arabic lamps and chandeliers add up more to the ambiance of the restaurant. Overall, The Al Jasra Restaurant's design is amazing and cozy.
Read More: Al Shurfa Arabic Restaurant
Al Jasra Menu
The menu of Al Jasra Restaurant is a collection of flavors and tastes. The Al Jasra Restaurant Doha's menu features a variety of delectable tastes made by experienced servers and chefs.
The menu includes a wide range of home-style Arabic cuisine made of fresh and high-quality ingredients. You can choose a variety of appetizers, main courses, desserts, and drinks.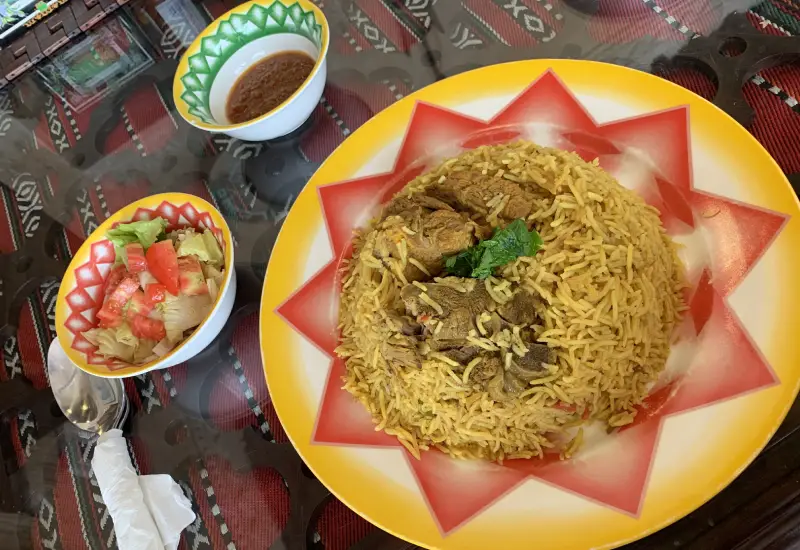 One of the highlights of the Al Jasra Traditional Food is its extensive selection of grilled meats, including lamb chops, beef and chicken kebabs, shish taouk, and mixed grill platters that are served with rice.
These selections of grilled meats are marinated in traditional Arabic spices and are perfect for the main course.
Al Jasra Desserts and Drinks
The desserts and drinks menu of Al Jasra Restaurant is its best part. The restaurant offers a range of traditional Arabic sweet treats such as baklava, knafeh, and Umm Ali, a bread pudding made with sweetened milk and raisins.
These Arabic sweet treats are made daily with fresh ingredients that are best served with tea after a meal. Al Jasra Restaurant also includes a variety of drinks and beverages. Tea and Arabic coffee are the most popular drinks on the restaurant's menu.
Ratings and Reviews
The Al Jasra Restaurant Doha is a delicious journey through the narrow alleys of Souq Waqif. This place is very popular and highly recommended by tourists to experience a beautiful journey through traditional Arabic cuisine.
Hospitable staff, delicious food, and great services are some of the key features of the Al Jasra Restaurant. You will taste some of the best flavors of the region at the Al Jasra restaurant at a reasonable price.
Information
The Al Jasra Traditional Food is located in the Souq Waqif and is reachable via Doha metro, taxi, or car. There are parking sites available near the Souq Waqif for more ease.
The nearest metro station to the Souq Waqif is the Souq Waqif Station on the gold line. Deliveries and take-outs are also available. The cost of food starts from 65 QAR per person.
The Al Jasra Restaurant Doha is a great value for money if you want to taste homemade Arabic cuisine.
Al Jasra Restaurant Contact Number: +974 5529 8871
Al Jasra Restaurant Address: Ali Bin Abdullah Street
Read more: Qatar Street Food
Memorable Tastes
Experience the finest dining at Al Jasra Restaurant Doha with your friends and family. Al Jasra Restaurant Souq Waqif invites tourists and locals to a vibrant experience blended with the Qatari culture and traditions.
Al Jasra Restaurant Souq Waqif is managed by a team of ladies, a dedicated team who tries to deliver memorable tastes at this traditional home-style restaurant. Once you enter the Al Jasra Restaurant Doha, the first thing you'll notice is the beautiful culture of the Qatari people. Qatari people are well-known for their hospitality and unique culture. Make sure to visit Al Jasra Restaurant while visiting Qatar.
Are you planning to Travel to Qatar? Check out our Qatar tours.