Indian food is one of the most diverse cuisines in the world. Indian foods are well-known for their flavors and spices. Indian cuisine is very popular inside and outside of India. With a large population of Indians in Qatar and especially in Doha, Indian dishes have become a must-try activity. Many Indian Restaurants offer authentic and delicious Indian cuisines for tourists and locals, making it difficult to choose your dining option from these various restaurants. In this article, we've gathered some of the best Indian Restaurants in Qatar for those looking to dive into Indian dishes. stay with Maraya Tours.
Voted as the best restaurant in Doha by several famous magazines, the Bombay Balti restaurant is a top-notch facility for special dining experiences. Bombay Balti offers a variety of Indian foods made by talented chefs.
The restaurant is located in Al Muntazah on the ground floor of the Radisson Blu Hotel Doha and is an ideal place for tourists.
The menu includes both vegetarian and non-vegetarian dishes for customers. The Bombay Balti restaurant also provides deliveries and take-out services.
Location: Ground Floor, Radisson Blu Hotel, Salwa Road, Al Muntazah, Doha
Timing: Monday to Saturday – From 6: 00 pm to 11: 00 pm / Closed on Sunday
Bukhara Caravan
The Bukhara Caravan restaurant is one of the oldest Indian eateries in Qatar. Situated next to the Khalifa International Tennis and Squash Complex, the Bukhara Caravan restaurant in Doha is a must-go location for a superb dining experience.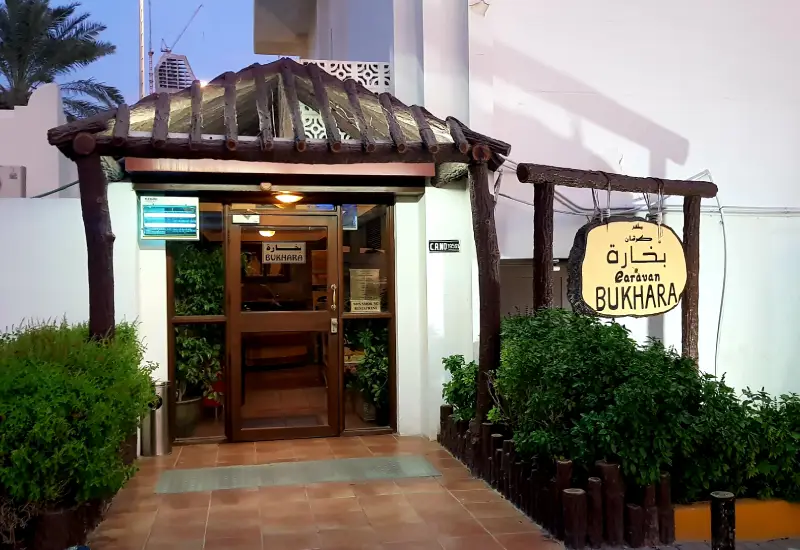 The restaurant is very popular among tourists and locals due to its operation for many years. The mutton biryani and tadka dal are the signature of the Bukhara Caravan restaurant.
Location: 8G77+7GJ, Maskar Aref St, Doha, Qatar
Timing: Sat-Wed 11.30 am – 12 midnight / Thu 11.30 am – 1 am / Fri 12.30 pm – 1 am
Nice setting, and a small Indian band along with a diverse menu, the Chingari restaurant is the perfect place for a remarkable experience.
The restaurant has a wide selection of Indian foods. The butter chicken and fish tikkas are the loveliest foods of the Chingari restaurant.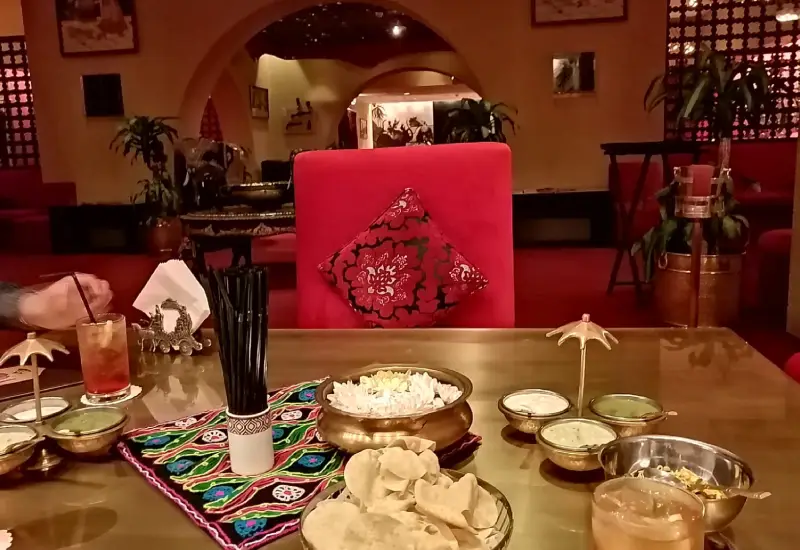 Listening to Indian tunes while eating the best Indian cuisine is an enjoyable task that you can only experience in the Chingari restaurant in Doha.
Location: Radisson Blu Hotel Doha, Salwa Road, Intersection of C Ring Rd, Doha, Qatar
Timing: Monday to Sunday – From 6: 00 PM to 11: 00 PM
Dalchini
The Dalchini restaurant is located in the business area of Doha, West Bay. The interior design of the restaurant is modern and charming, providing a nice setting for business meetings and family gatherings.
The Dalchini restaurant offers a wide variety of Indian cuisine for both vegetarians and non-vegetarians. Alfred Prasad, an experienced chef, is in charge of the Dalchini Restaurant. With a vibrant design, a talented team, and an extensive menu, Dalchini restaurant is the place to go in Doha.
Location: Ground Floor, Centara West Bay Residences & Suites, Diplomatic Street, Westbay, Doha, Qatar
Timings: Monday to Sunday – From 12: 00 PM to 11: 30 PM
Jamavar Top Indian restaurant in Doha
Opened in February 2021, the Jamavar restaurant is one of the newest restaurants in Doha. With a modern and subtle design in a prime location, Jamavar restaurant is ideal for leisure travelers and locals.
Friendly staff and high-quality Indian foods made with the freshest ingredients are some of the features of Jamavar restaurant. The Jamavar restaurant offers both royal and simple cuisine.
You can taste the best Indian cuisine in a warm and vibrant atmosphere at the Jamavar restaurant.
Location: Al Corniche, Doha, Qatar
Timings: Monday to Sunday – From 12:30 PM to 12: 00 PM
Jwala
The Jwala Restaurant is one of the best Indian restaurants located in Doha. The Jwala restaurants represent some of the best and most classical Indian dishes blended with spices and herbs to deliver an amazing experience for their customers.
The restaurant's design is a mixture of traditional Indian elements and modern amenities. You can explore the Indian flavors at the Jwala restaurant in a nice setting. The Jwala restaurant is a one-stop destination for delicious Indian cuisine.
Location: Building B12, Andalucia Way, Medina Centrale, Pearl Qatar, Doha, Qatar
Timings: Monday To Wednesday – From 12: 00 PM to 11: 30 PM / Thursday To Sunday – From12: 00 PM to 12: 00 AM
Riyasat
Opened in the St. Regis Doha, the Riyasat Restaurant is a world-class dining restaurant that provides a delicious Indian menu. Chef Surjan Singh Jolly and his team provide the most delectable meals, ranging from char-grilled, tandoor, pot-roasted, griddle-fried, braised, etc.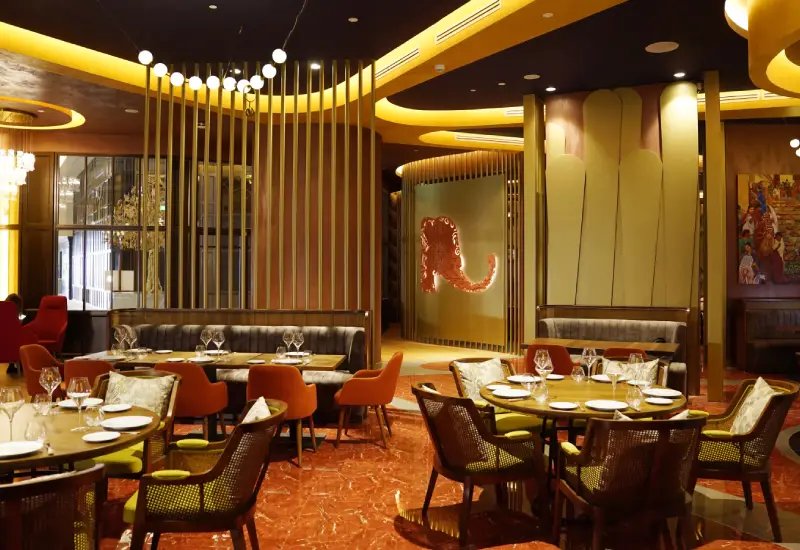 The Riyasat restaurant is a true celebration of Indian cuisine and a joyful experience through tastes and flavors. The restaurant also offers a variety of Indian drinks, such as Masala Chai and other beverages. Experience the best Indian cuisine at the Riyasat restaurant in Doha.
Location: Al Gassar Resort Tower 2, Doha, Qatar
Timings: Monday to Sunday – From 12: 00 PM to 11: 00 PM
Saffron Lounge
Serving the most delicious Indian cuisine in a nice and lovely location at the Katara Village, the Saffron Lounge is the most popular place in Doha for having a dining experience beyond usual.
The Saffron Lounge menu includes a variety of Indian dishes mixed with fresh spices and herbs. Eating in this restaurant is accompanied by beautiful sea views and hospitable staff, which makes it a very joyful experience.
Location: Katara – The Cultural Village Foundation, Katara Cultural Village، Doha, Qatar
Timings: Monday to Saturday – From 1: 00 PM to 10: 00 PM / Sunday – From 5: 00 PM to 10: 00 PM
Lastly
Indian food is a must-try cuisine that will give you an authentic experience of flavors and spices. Various Indian Restaurants in Doha invite travelers and locals to a flavorful experience.
Some of the most favorable Indian dishes in Qatar include biryani, butter chicken, tandoori chicken, dal makhani, paneer tikka, samosas, and many more.
These dishes are usually made with a blend of spices and herbs, which give them a unique taste. If you are traveling to Doha, make sure to check out the best Indian restaurants in Qatar.
Are you planning to travel to Qatar? Check out our Qatar tours.