Boho Social Doha is a popular restaurant located in Qatar that serves a wide variety of dishes from around the world. The restaurant has a unique atmosphere, with a mix of classic and contemporary decor that adds to the vibrant atmosphere.
Its menu features a mix of Mediterranean, Asian, and Middle Eastern cuisine, as well as a few international dishes. With its lively atmosphere and delicious food, Boho Social Doha is the perfect place for a social gathering.
Boho Social menu
Boho Social offers a unique and delicious fusion of flavors from around the world. Their menu features a variety of light bites, salads, and main dishes, with influences from Italy, India, Thailand, and more. At Boho Social Doha, guests can enjoy a unique and tasty dining experience in a relaxed atmosphere.
For starters, the menu features dishes such as Thai Fish Cakes, Grilled Halloumi, and Baked Camembert. Salads include the Boho Quinoa Salad, which is a mixture of quinoa, feta, spinach, and sundried tomatoes, and the Thai Chicken Salad, which is a delightful blend of red cabbage, chicken, cashews, and a spicy Thai dressing.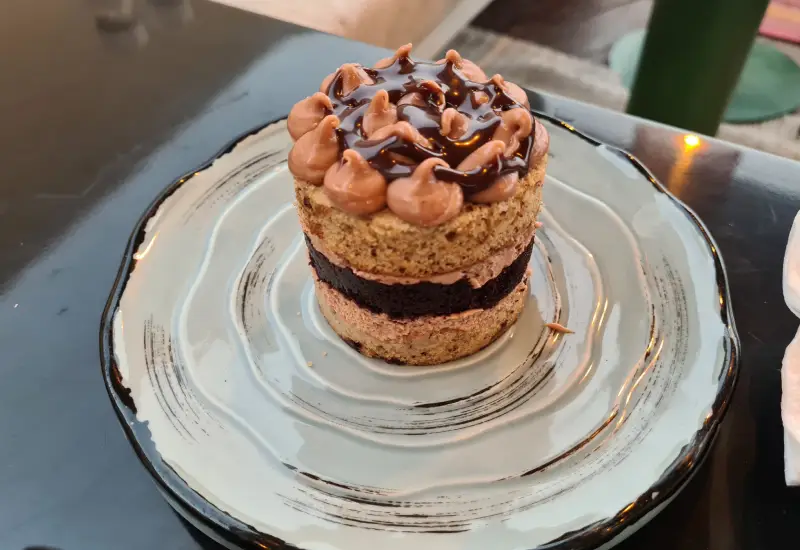 Main dishes at Boho Social include the Saffron Risotto, which is a creamy risotto made with saffron, mascarpone, and parmesan, and the Baked Salmon, which is served with a side of roasted vegetables and a light lemon-butter sauce. For vegetarians, there is the Grilled Vegetable Platter, which is an assortment of grilled vegetables served with a creamy tzatziki sauce.
The menu offers classic favorites such as the Chocolate Brownie, Key Lime Pie, and a selection of ice creams for dessert. They also have a variety of refreshing drinks, including a variety of hot and cold teas, coffees, and non-alcoholic cocktails.
Boho Social Menu prices
The prices at Boho Social Doha vary depending on the item ordered. Appetizers range from QR 25 to QR 55, while main dishes are priced between QR 55 and QR 95. Beverages are QR 20 to QR 35, and desserts are QR 25 to QR 35.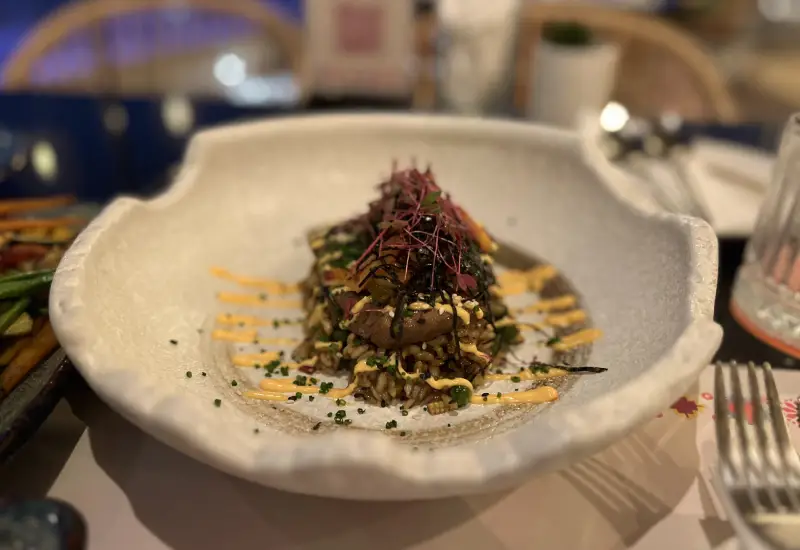 Boho Social also offers a range of alcoholic beverages, such as beer, wine, and cocktails. Prices for these drinks range from QR 25 to QR 65. The restaurant has a selection of set menus for special occasions. These set menus are priced from QR 150 to QR 250 per person.
Another attraction of this restaurant is its unique discounts which include a 10% discount for students and a 15% discount for groups of four or more. In general, it can be said that Boho Social Doha offers a variety of restaurants at reasonable prices, which is a great thing.
Boho Social Location and Accessibility
Boho Social is located in the heart of Doha, Qatar. It is in the vibrant West Bay area, close to popular shopping malls, hotels, and corporate offices.
Access to Boho Social Doha is easy. It is located in the Lagoona Mall, which is a few minutes away from the Corniche on the Doha Expressway.
The restaurant is also a few minutes away from the Doha International Airport, making it easily accessible for travelers.
Access to Boho Social Doha is easy. It is located in the Lagoona Mall, which is a few minutes away from the Corniche on the Doha Expressway. The restaurant is also a few minutes away from the Doha International Airport, making it easily accessible for travelers.
Boho Social reviews
Boho Social has become a popular spot for tourists, offering a unique dining experience with its unique blend of flavors and styles. The restaurant has received rave reviews from customers, who have been highly impressed with the quality of the food, the attentive service, and the overall atmosphere of the restaurant.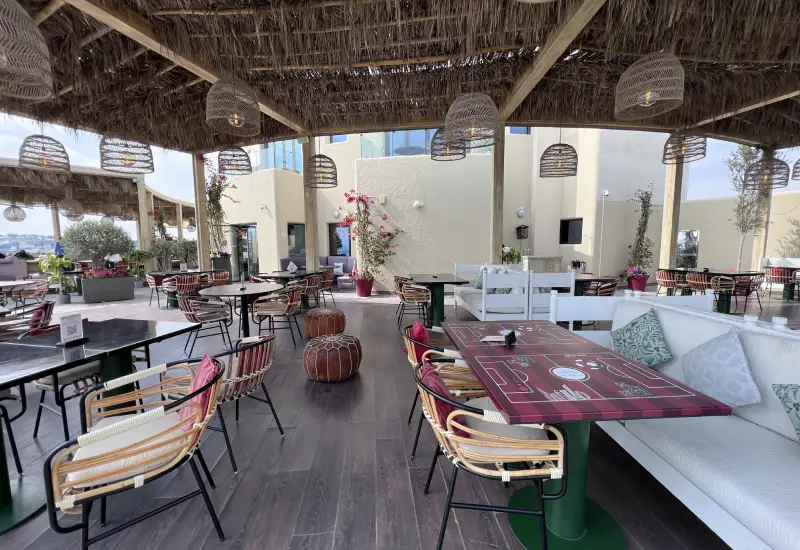 The restaurant has a relaxed, bohemian vibe and features a diverse array of dishes from different Mediterranean countries. Customers have enjoyed the wide variety of options, from succulent seafood dishes to creative vegetarian offerings and traditional favorites like falafel and hummus.
Boho Social Doha's customer service is also highly rated. The staff is friendly and attentive, and they always make sure that customers get the best experience possible. The restaurant also has delivery services, which makes it even more convenient for customers to enjoy their favorite dishes.
Boho Social Katara history
Boho Social Doha was founded in 2016 by entrepreneur Ahmed Al-Ansari. This famous restaurant is the first of its kind in Qatar and has quickly become one of the most popular venues in the city.
Ahmed Al-Ansari is a local entrepreneur from Qatar who has a passion for creating innovative and unique experiences for people in the city.
He has always had a vision for creating a space that would be a hub for locals and ex-pats, a place that would bring the community together, and a spot where people could come to relax, dance, and have a great time.
Since opening its doors in 2016, Boho Social Doha has become one of the most popular venues in Doha. With its vibrant atmosphere, great music, and friendly service, the venue has quickly become a favorite among people.
Restaurant Environment
Boho Social Doha is designed to capture the essence of bohemian culture with a relaxed atmosphere and eclectic decor. The interior design is inspired by a combination of Moroccan, Indian, and Middle Eastern influences, creating a unique and inviting atmosphere.
The centerpiece of the restaurant is the open-air terrace, designed in a traditional Bedouin style, providing the perfect place to enjoy a meal while taking in the views of the city.
The terrace is surrounded by lush greenery and is lit up with lanterns, creating a warm and inviting atmosphere. The restaurant has an open kitchen where guests can watch the chefs prepare their meals.
The restaurant also has a large bar where guests can relax and enjoy their drinks. In addition to the bar, there are also several lounges and seating areas for guests to gather and socialize.
The design of Boho Social focuses on creating an environment that is both comfortable and inviting. The restaurant is designed to make guests feel at home while still providing a unique and stylish dining experience.
The atmosphere encourages conversations and socializing, making it the perfect place to bring friends and family together.
Boho Social Qatar nearby attraction
If you want something a little more active, there are plenty of things to do nearby. Take a stroll along the Corniche, where you can admire the views of the city skyline, or head to the nearby Souq Waqif, a traditional open-air market where you can shop for everything from spices to Qatar souvenirs.
You can also explore the many museums and art galleries that Doha has to offer or try your hand at some of the water sports available on the beach.
Contact
Website: Here
Phone: +974 77 65 52 85
Address: Level 2, above Katara Club, off Shakespeare street – Doha
Final Word
Whether you are looking for a great place to dine with friends, have a romantic dinner, or just relax and enjoy the atmosphere, Boho Social is a perfect choice. With its diverse menu, vibrant atmosphere, and friendly staff, Boho Social Doha is sure to please all who visit. So, if you plan to visit Qatar, be sure to check out this great restaurant and experience the perfect combination of great food and good vibes.
Are you planning to travel to Qatar? Check out our Qatar tours.