Qatar's vibrant capital, Doha, is a city known for its rich culture, many attractions, and growing culinary scene, making it one of the top foodie destinations in the Middle East. For those looking to ignite or rekindle the flames of romance, Doha offers many romantic restaurants that combine exquisite cuisine with enchanting surroundings. If you are planning to travel to Doha and are looking for a romantic restaurant in Doha with price, this article is for you. In this guide, we take you on a journey through some of the most enchanting and romantic restaurants in Doha, where love and food go hand in hand.
La Mar Doha
La Mar is widely regarded as one of the best romantic restaurants in Doha. Its enchanting ambiance, characterized by soft lighting and captivating views of the Gulf, sets the stage for a truly memorable romantic experience.
The restaurant's specialty in Peruvian cuisine, featuring dishes like ceviche and grilled seafood, will not only tempt the taste buds but also add a layer of culinary romance to your evening.
What makes La Mar a distinct choice for couples is its ability to create an intimate and cozy atmosphere that makes it perfect for a romantic date night or special celebration.
Whether you are celebrating an anniversary or simply looking to light the sparks of love, La Mar in Doha is the perfect choice for an unforgettable romantic dining experience.
Dining by Design, Banana Island Resort
Dining by Design at Banana Island Resort Doha offers a truly lovely experience. This unique dining concept allows you to create your own dream dinner setting, be it on the beach, in a garden, or even in a private cabana.
You can customize your menu to your liking and have a personal chef and waiter to cater to your every need. It is the perfect way to celebrate a special occasion or enjoy a romantic evening with your loved one in a beautiful setting.
Gazebo by the Beach
Gazebo by the Beach Restaurant in Doha offers a relaxed setting for a candlelight dinner in Doha. This charming restaurant lets you enjoy a romantic evening with your loved one, where the soft glow of candles creates a cozy atmosphere.
With the sound of the waves in the background, you can enjoy delicious meals while taking in the breathtaking views of the beach. Gazebo by the Beach is the perfect spot for those seeking a relaxing and romantic candlelight dinner experience in Qatar.
Gazebo by the Beach in Doha is indeed one of the best places for a romantic private dinner in Qatar. It offers an ideal setting with serene beach views and the soothing sound of waves crashing against the beach.
The food is delectable, and their unique cocktail selection adds an extra layer of enjoyment to your dining experience. What sets Gazebo apart is its incredible sunset views, making it an ideal choice for a romantic evening, especially as the Doha weather cools down.
The ambiance is perfect for a special night with your beloved, offering a menu that caters to different tastes, from appetizers to delicious main courses and tempting desserts.
The attentive and professional staff at Gazebo by the beach ensures that your dining experience is everything you could hope for.
Al Matbakh Restaurant
Al Matbakh Restaurant in Doha offers an intimate and inviting space for a private dinner in Doha. This restaurant, which is famous for its cozy atmosphere and delicious food, allows you to enjoy a quiet and romantic evening with your loved one.
With a menu combining Qatari flavors with international cuisine, Al Matbakh provides a delightful dining experience in an attractive setting and is the perfect choice for those looking for a private and memorable dinner in the heart of Doha.
Zengo Romantic Restaurant in Doha
Zengo Restaurant, located in Doha, is a top choice among romantic restaurants in Qatar. With beautiful decorations and a menu full of delicious dishes, it sets the stage for a memorable romantic night.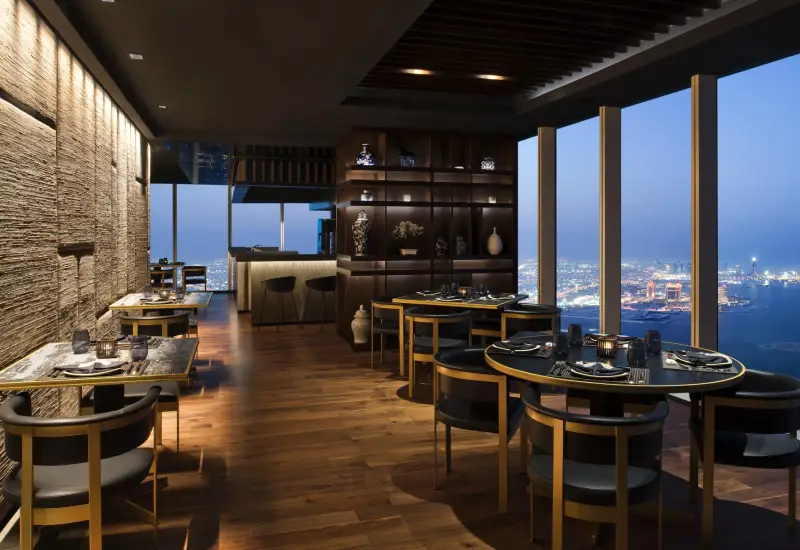 Whether you are celebrating a special occasion or looking to enjoy a lovely dinner with your partner, Zengo's ambiance and cuisine make it a great choice.
The restaurant's pleasant atmosphere and delicious food combine to create a truly romantic dining experience in Qatar.
Sora
Sora Restaurant, located on the 21st-floor rooftop of Park Hyatt Doha, is rightly considered one of the top 10 romantic restaurants in Doha.
This modern Japanese restaurant not only has a breathtaking outdoor terrace with an epic sunset view but also serves delicious cuisine that enhances the romantic dining experience. Sora's charming surroundings, spectacular sunsets, and Japanese cuisine make it an outstanding choice for a truly unforgettable romantic dinner in Doha.
Pier 12
For couples looking for a seafood-centric romantic date, Pier 12 at the Radisson Blu Hotel Doha is an ideal choice.
This elegant restaurant, with its sea-inspired decor, overlooks the Doha Corniche and offers a serene atmosphere for couples to relax.
Enjoy a variety of fresh seafood, including crab, oysters, and shrimp, while enjoying the relaxing sound of waves in the background.
Market by Jean-Georges
Located at the W Doha Hotel & Residences, Market by Jean-Georges is the brainchild of renowned chef Jean-Georges Vongerichten.
The restaurant showcases sophistication with its contemporary design and offers a diverse menu featuring international flavors.
Couples can enjoy dishes like truffle pizza, black truffle risotto, and a variety of juicy steaks while enjoying the restaurant's warm and romantic atmosphere.
Al Mourjan
Al Mourjan is a restaurant located on the edge of the Arabian Gulf and combines the traditional flavors of the Middle East with modern colors.
The stunning outdoor seating area, complete with cozy cabanas, sets the mood for a romantic night under the stars.
Savor Arabic delicacies such as mezeh, grills, and kebabs while taking in the panoramic views of the Doha skyline.
If a blend of Japanese and Peruvian cuisine sounds enticing, then Nobu Doha at the Four Seasons Hotel is the perfect spot for a romantic dinner. The restaurant's stylish design, dim lighting, and waterfront views create an intimate atmosphere.
Share dishes like Black Cod Miso and Yellowtail Jalapeño, and let the culinary artistry of Chef Nobu Matsuhisa make your dining experience one of a kind.
For a romantic dining experience with Qatari culture, look no further than IDAM. Located in the Museum of Islamic Art, this restaurant is the brainchild of three-star Michelin chef Alain Ducasse.
The interior is a masterpiece of design, with Arabic influences and stunning views of the Doha skyline.
IDAM offers a unique combination of traditional Qatari ingredients with French Mediterranean cuisine, making it a truly exceptional dining experience.
The Anvil Rooms
Located on the 28th floor of the Tornado Tower, The Anvil Rooms offers panoramic views of Doha's skyline.
This steakhouse is a great choice for couples who appreciate fine cuts of meat and a cozy atmosphere.
The restaurant's minimalist design and attentive service create an intimate setting for you and your loved one to savor and enjoy the finest steaks in the city.
Al Najada Doha Hotel by Tivoli
At Al Najada Doha Hotel by Tivoli, you will find an array of dining options perfect for romance.
Whether it is the lush courtyard of Antica Pesa, the rooftop terrace of Argan, or the intimate atmosphere of Al Matbakh, this boutique hotel offers a variety of settings to suit your romantic preferences.
Explore Italian, Moroccan, or Qatari cuisine, and let the ambiance and flavors create lasting memories.
Al Hazm Restaurant
For a romantic evening in a lush garden setting, Al Hazm is a hidden gem in Doha. This restaurant, located within the Al Hazm Mall, features beautifully landscaped gardens with tree-lined pathways and tranquil fountains.
The menu offers a mix of international cuisine, with a focus on Mediterranean and Middle Eastern flavors. Al Hazm's cute ambiance and delectable food make it a perfect choice for a romantic dinner.
Opal by Gordon Ramsay
Opal, located at The St. Regis Doha, is the creation of celebrity chef Gordon Ramsay. This restaurant combines Mediterranean and Middle Eastern influences to create a culinary journey that will delight your taste buds.
The opulent decor, attentive service, and a menu full of dishes like lamb shawarma and seafood paella make Opal an excellent choice for a romantic evening out.
Final Word
In short, romantic restaurants in Doha offer a diverse range of experiences for couples who want to add a little romance to their meal.
From stunning waterfront settings to elegant interiors and a fusion of global flavors, Doha's dining scene has something for every romantic occasion.
So, whether you are celebrating a special moment or simply nurturing your relationship, these restaurants are ready to create lasting memories of love and great food in Qatar's capital. Make a reservation, get dressed up, and get ready for a delightful culinary journey with your special someone.
Are you planning to travel to Qatar? Check out our Qatar tours and read about romantic places in Qatar and Qatar romantic hotels.