center of Qatar's thriving capital city of Doha. It stands proudly at 28 stories high and boasts spectacular views of the city's skyline. InterContinental Doha – the City, an IHG Hotel offers a range of meticulously designed rooms and suites, each crafted to provide the utmost comfort and tranquility.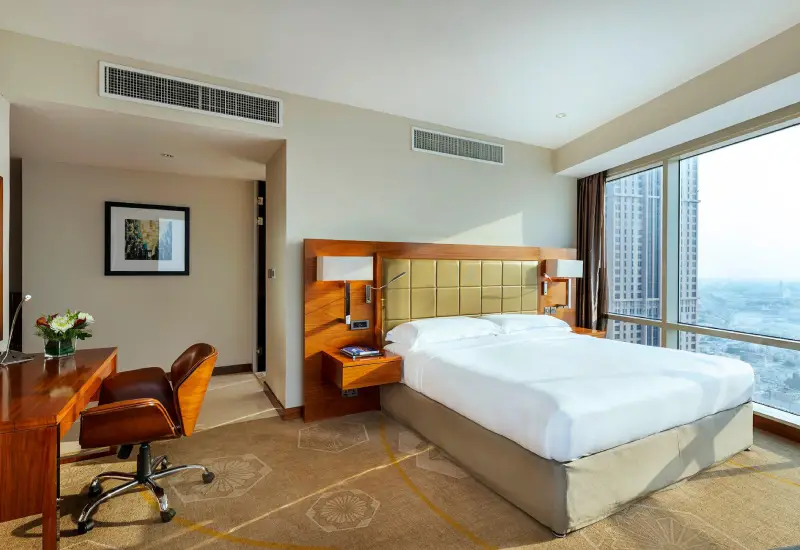 The accommodations are tastefully furnished, boasting modern amenities and plush bedding that ensure a restful night's sleep.
With its contemporary décor, breathtaking vista, and cutting-edge facilities, it is no wonder that InterContinental Doha has become one of the city's most desired destinations for international travelers, business professionals, and residents alike.
InterContinental Doha The City allows you to effortlessly secure your accommodation and focus on the anticipation of a remarkable experience.
The hotel's official website serves as a comprehensive platform where you can explore all the information you need to make an informed decision.
From detailed descriptions of room types and amenities to captivating images showcasing the hotel's luxurious ambiance, the website provides a glimpse into the world of InterContinental Doha, The City.
InterContinental Doha The City recognizes that personalized assistance can enhance the booking experience, and therefore, they offer dedicated customer support through various channels.
Should you have any questions or require additional information, their friendly and knowledgeable reservations team is just a phone call or email away.
They are committed to providing instant and efficient service, helping you navigate the booking process, and addressing any inquiries you may have.
InterContinental Doha The City has earned rave reviews from TripAdvisor. Many reviewers noted the friendly and knowledgeable staff, luxurious accommodations, world-class facilities, and available services.
For the ultimate convenience, many guests also enjoy the short-term car rental service, which allows them to have a car of their own when traveling to the hotel.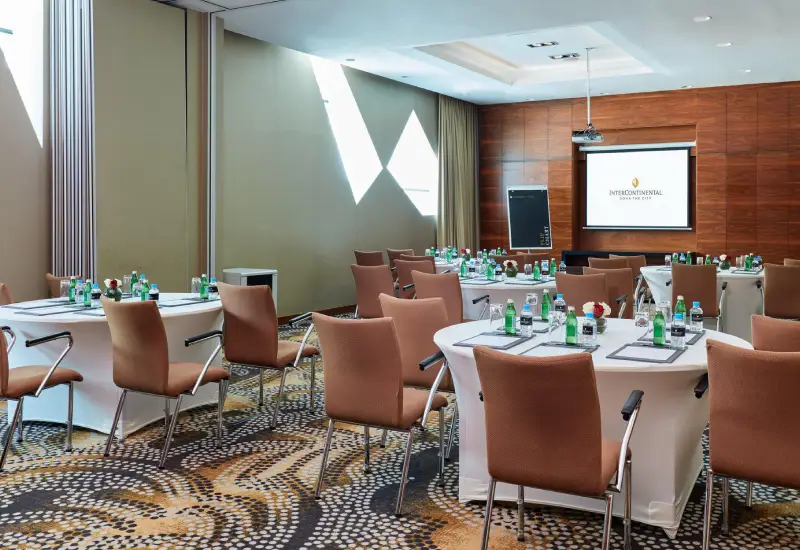 Furthermore, several reviewers have also expressed satisfaction with the quality of the food, with many raving about the variety and deliciousness of the dishes served.
Overall, InterContinental Doha The City is truly an impressive hotel that can provide guests with an unforgettable stay in Qatar.
From top-notch accommodations to a range of amenities and services, this is one hotel that is sure to make your time in Doha more luxurious and enjoyable.
InterContinental Doha The City Restaurant
The restaurant provides a luxurious dining experience and offers a wide range of culinary offerings. The restaurant is renowned in the region for its creative and modern take on Middle Eastern cuisine.
Its menu includes Mediterranean- and Arab-inspired dishes such as Hummus, Kebab, and Baklava.
The restaurant's decoration is exquisite and replicates the architecture of ancient times. Soft lighting and comfortable seating create an inviting atmosphere to enjoy your meal.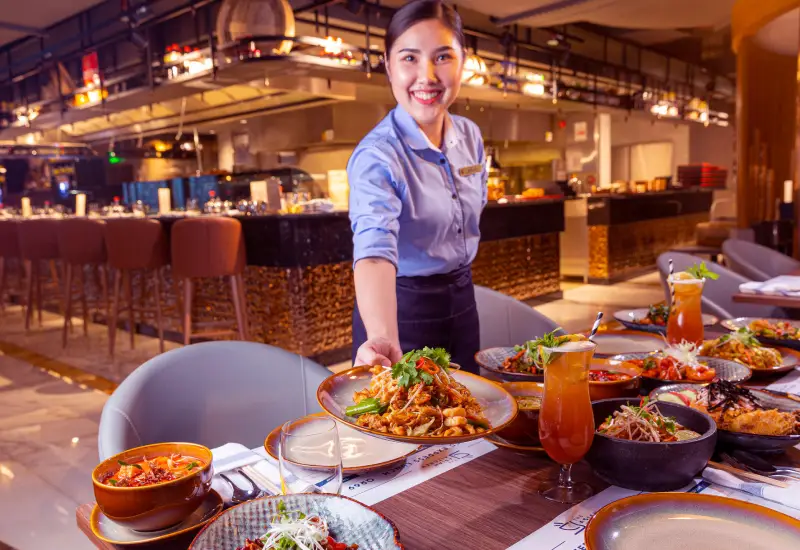 The restaurant is part of the renowned Intercontinental Doha Hotel, and guests can enjoy a room with a view or dine alfresco from its terrace.
The restaurant also features an outstanding wine list, carefully selected to complement each dish. The sommelier team offers expert recommendations on regional and international wines along with an assortment of spirits.
InterContinental Doha The City Spa
InterContinental Doha The City Spa, is a luxurious spa in Doha. This full-service spa features 13 treatment rooms, a fitness center, a sauna, a steam room, and a swimming pool.
Visitors can enjoy various spa treatments, including massage, body treatments, facials, and more. Guests can also relax with a selection of signature rituals, including a couples massage, an aromatic journey, and a chocolate massage.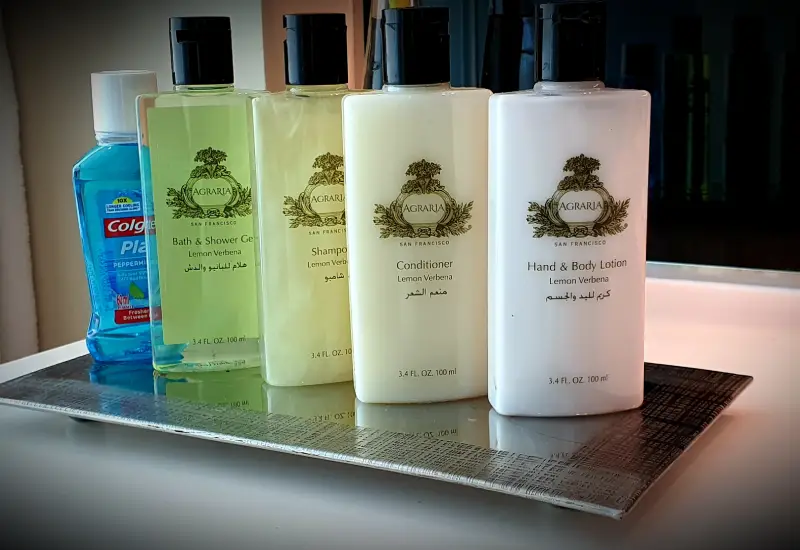 In addition to spa services, the InterContinental Doha The City Spa boasts an outdoor terrace with loungers and views of Doha's skyline.
Visitors can enjoy light snacks and drinks, accompanied by live music and DJ entertainment. The spa also includes a full-service hair and beauty salon, as well as a gift shop, and a nail lounge.
InterContinental Doha The City Pool
The impressive pool at the InterContinental is over 30 meters long and over 4 meters deep, covering over 1400 sqm and catering to all levels of swimmers.
The swimming pool is filled with crystal clear turquoise waters and surrounded by comfortable sun loungers with high-quality parasols to shade guests from the hot desert sun.
For a luxurious experience, the hotel's exclusive Cabanas provide poolside services with fresh towels and a private server.
The exceptional pool area is the perfect setting to relax and refresh on a hot summer day. Delicious food and beverages can be enjoyed at the poolside restaurant and bar, as well as the top-floor Sky Lounge and the lobby-level restaurant.
There are also a number of luxurious treatments and massages available at the spa and wellness center, allowing guests to unwind and take in the stunning views of the Doha skyline.
InterContinental Doha The City Location
Situated in the city center, the hotel is just a short drive away from Hamad International Airport and provides convenient access to Doha attractions.
The InterContinental Doha The City is surrounded by a variety of retail and entertainment experiences, including the Doha City Center, The Pearl Qatar, and Katara Cultural Village.
Shopping and nightlife options include Villaggio Mall, Aspire Zone – home to Doha's first SEASONS Market, and Souq Waqif, while the nearby The Corniche offers stunning views of the city skyline. There are various cultural attractions within the vicinity, including several museums and world-class galleries.
More Information:
InterContinental Doha The City Contact Number: +974 40 158888
InterContinental Doha The City Address: Off Al Wahda Road, 22178 Doha, Qatar
Email Address: [email protected]
Website: Click Here
Final Word
In conclusion, InterContinental Doha – the City, an IHG Hotel exemplifies the pinnacle of luxury and sophistication in the heart of Doha. From its elegant accommodations and exceptional dining options to its world-class amenities and impeccable service, this hotel promises an unforgettable experience for every guest. Whether you are visiting for business or leisure, This hotel invites you to immerse yourself in the epitome of Arabian hospitality and create memories that will last a lifetime.
Are you planning to travel to Qatar? Check out our Qatar Hotel page & Qatar tours.